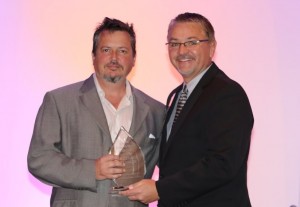 Enrollment Resources is thrilled to received the award for the 2014 Allied Member of the Year by the California Association of Private Post-Secondary Schools (CAPPS) this month.
The proprietary school leaders at CAPPS work to "do well by doing good" – turning profit while helping people get a leg up in life.  We feel this is an honourable path and we are very proud to be a part of this wonderful sector.
The annual conference was themed "Charting Our Course" as many in the higher education field are undergoing unique challenges including changes to regulations.  To offer direction for all attendees, Gregg Meiklejohn, co-founder of Enrollment Resources, launched our Lost Revenue Finder which assisted attendees in finding $1 Million of lost revenue after only 5 minutes with us.
After 11 years of testing and implementation, we are looking forward to working with CAPPS members, as well as many other proprietary schools in North America, to help better enrollment processes with small manageable improvements. We've proven that these tiny process improvement can make these companies tens of millions of dollars per year.