The typical approach for EDU digital marketing is centered around building an empirical argument to pursue training. Most marketers (us included) build arguments that rely on factual claims like placement rate, completion rate and graduate salaries to provide proof of the school's value, followed by a call to action to fill out a form in return for more information about the school. This model is focused on sharpening that argument with hard data.
It's not a bad approach and most schools do have stats to be proud of, but it does ride a compliance edge. If the data isn't spectacular (i.e., completion rate or placement rate isn't solid) or, more likely, claims rely on data that isn't current, compliance problems arise. It's easy for a school to overstate performance metrics mistakenly, and easier still for a landing page or website copy that was written months or years ago to get overlooked when new stats emerge.
This compliance edge is a big challenge for management. Marketers want to tell the best story they can and Compliance needs to make sure it's defendable.
After a lot of analysis and thought, we believe there are other ways we can tell our clients' stories that have more emotional impact. There are stories to tell that don't rely on hard-to-monitor statistics, aren't loaded with legal risk and don't create a position that constantly has to be defended. The success of our Virtual Adviser Career Readiness Quiz is a clue to this. The Career Readiness Quiz asks the prospect "Is school right for you?" and then helps them find out. Its success suggests that the questions people have going into their school search aren't going to be answered by a logical argument.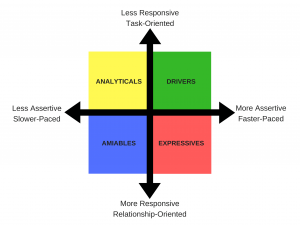 Take a look at the personality styles matrix. Sure, there's a chunk of the population that is analytical and may be motivated by a pros-cons list, but the vast majority won't be. Those analytical people make up less than 20% of the market. According to our research, most of the market is trying to find an emotional fit, even if they aren't aware of it. That's the motivator: the song in the heart of the prospect, so to speak. As a sector, we keep trying to sharpen the logical argument, and instead, the opportunity may be in making a more resound emotional one.
The positive response we get when we ask people if they are a fit through the quiz points towards that opportunity: Answer the emotional questions like "Am I a fit?" and "Can I fit in?"
The opportunity lies in the way we tell the story of the school and share successes — even more emotionally based personal successes, such as "This is how I felt before, and this is how I feel now."
For example, advertising copy doesn't have to be, "I made $14 an hour, and now I'm making $18 an hour." That's a fine story, but it's a short one that doesn't answer "So what?"
Instead, that story could be, "I felt worthless, and I felt like I was unproductive and just getting up for work every day was a struggle. Now I feel energized, and I feel like I have purpose, and I'm contributing, and I feel more fulfilled." That tells a more powerful story than the few bucks difference in hourly earnings.
It really gets back to the old advertising "people buy the sizzle, not the steak" maxim.
The approach we're going to explore in the December 19th webinar is how schools can bring the focus onto the emotional resonance in their story. Why does the school do what they do, money aside, and what steps do they take to be exceptional? I think that angle can be really powerful. As a byproduct, it helps with compliance by moving the focus away from data and statistics which creates risk with little-to-no benefit.
Or how to convert website traffic into leads while also avoiding compliance problems.
We will also be joined by our good friend and compliance expert, attorney Jennifer Flood, who will share some of what she knows. Should be an interesting conversation.
[av_button_big label='Register now for the last webinar of 2018!' description_pos='below' link='manually,https://attendee.gotowebinar.com/register/8360781370884712971?source=article' link_target='_blank' icon_select='yes-left-icon' icon='ue83f' font='entypo-fontello' custom_font='#ffffff' color='theme-color' custom_bg='#444444′ color_hover='theme-color' custom_bg_hover='#444444′ av_uid='av-33mbjm' admin_preview_bg="]
On December 19th at 11am PST/2pm EST, Jennifer Flood of National Compliance Group is joining the experts from Enrollment Resources for the final webinar of 2018!
Register today to learn how to write website and landing page copy that converts visitors to leads while meeting the compliance requirements for your schools' regulators.
[/av_button_big]