VICTORIA, British Columbia – Sept. 12, 2017 – B Lab International announces today that Enrollment Resources is being honored with three Global B Corp Best for the World Honors. Enrollment Resources is receiving the Changemakers, Best for Workers and Governance Awards.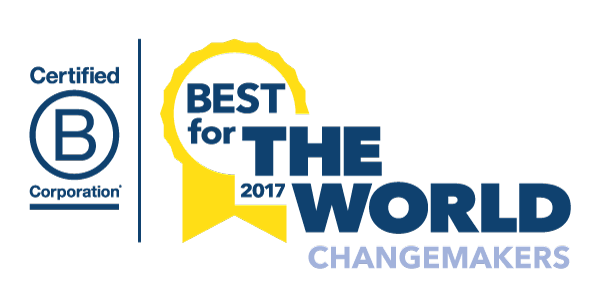 B Lab is a Not for Profit organization based in Washington DC whose purpose is to certify 'Businesses' as triple bottom line organizations. B Corps must go through a rigorous Certification process and must be recertified every two years. B Corps include Patagonia, Ben and Jerry's Ice Cream and in Canada, BDC and Tartan Communications.
"Companies like Enrollment Resources are setting a new standard for creating positive impact for employees through their business," says Jay Coen Gilbert, co-founder of B Lab. "We're proud to shine a light on their achievement. Best for the World is the only list of businesses making the greatest positive impact that uses comprehensive, comparable, third-party-validated data about a company's social and environmental performance."
Enrollment Resources co founder Gregg Meiklejohn was thrilled when receiving the call from B Corp. "when my partner Shane Sparks and I talk about doing what's right, in addition to making a return, it can sometimes feel like a thankless process. In getting a recognition like this, all the members at ER are feeling pretty good right now."
For more information, please contact:
Christie Burns
Phone 250-391-9494
[email protected]
Visit our Social Commitment page
Background
More About B Lab
B Lab is a nonprofit organization that serves a global movement of people using business as a force for good. Its vision is that one day all companies compete not only to be the best in the world, but the best for the world and society will enjoy prosperity for all for the long term.
B Lab drives this systemic change by:
building a community of Certified B Corporations to make it easier for all of us to tell the difference between "good companies" and good marketing;
passing benefit corporation legislation to give business leaders the freedom to create value for society as well as shareholders;
helping businesses measure, compare and improve their social and environmental performance with the free B Impact Assessment;
driving capital to impact investments through the use of its B Analytics and GIIRS Ratings platform.
More About Enrollment Resources
Enrollment Resources is a leading service provider within the Higher Education Sector. ER works in a field called Enrollment Management. They provide outsource management and consulting services, plus SaaS tools that help schools optimize their conversion rates (CRO). The by-product: improved efficiencies which translate to improved Enrollment Revenues while allowing Schools to hold their costs.
In March 2013, Enrollment Resources became the first Direct Response Marketing Company globally certified with the B Corp designation. Companies must complete the full B Impact Assessment, have their answers verified by B Lab and re-certify every two years to certify as B Corporations.
More About the Enrollment Resources Global B Corp Best for the World Awards
The 2017 Global B Corp Best for the World awards are determined based on the verified B Impact Assessments of all Certified B Corporations globally. B Corps across 52 industries from 48 countries are recognized on the full list of 2017 Best for the World honorees with Enrollment Resources among the list in three categories.
The Changemakers List
… is calculated based on verified positive changes across all impact areas over time. Best for the World Changemakers are among the top 20th percent on this measure as of June 20th, 2017.
Best For Workers Award
Honorees featured on the Best for Workers list are among the top 10 percent of all Certified B Corporations in the respective impact area on the B Impact Assessment as of January 6, 2017.
Governance Award
… is calculated for the top B Corps who have organized their business affairs in such a way that triple bottom line activities are sustainable long term.