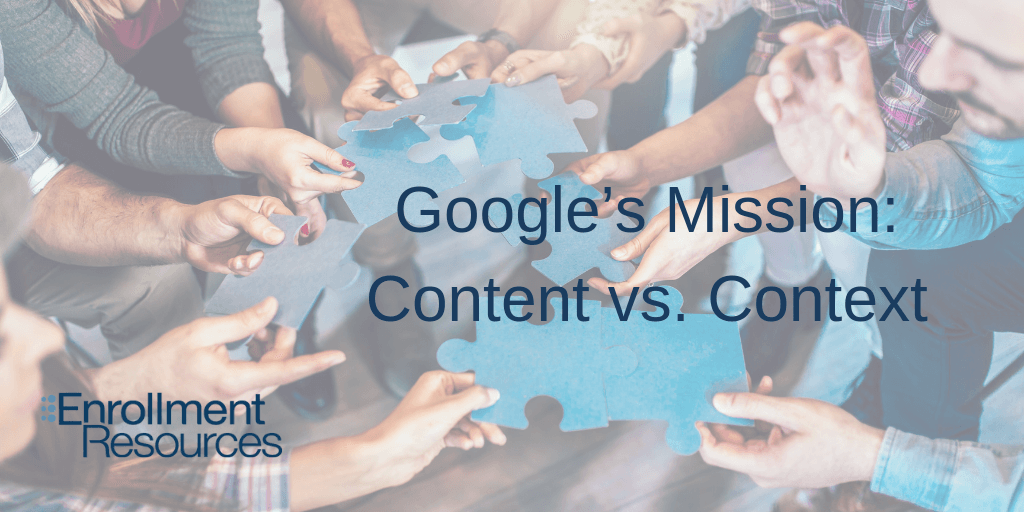 Tammy Miles is the Director of Paid Search Marketing at Enrollment Resources. She recently attended the 2019 Google Marketing Live Conference in San Francisco. The event attracted over 5000 participants from 68 Countries, with most of the buzz focused around Google's new ad features and artificial intelligence (AI) technology innovations. This is her summary of the main takeaways for schools looking to reach their EDU prospects.
Do You Know Your Prospect? Google Does
Google reiterated their mission: to deliver content that is useful, helpful, and transparent to their users while creating personalized and meaningful experiences that respect the privacy of those same users. To that end, Google advertising is heading beyond content and creative to the vast universe of user context.
User context adds additional layers of relevance when considering how to score your ads. There now needs to be additional subtle layers of context in analyzing and meeting a prospective student based on where they might be in their buying cycle. The end game is to be more empathetic and relevant, creating a better connection with your market. It's not going away, we need to master this new evolution in Google Ads management.
For example, imagine that your prospective student is interested in going back to school and also has young children. An ad that suggests support for families or flexible schedules that support busy adults has a better chance of showing prominently, compared to ads that might focus on a general benefit. Google can now better discern closer matches to where your prospective student is in their life right now. This is what Google means by 'user context.'
Google's AI machine learning chooses the ad that best matches the intent and context of a user's buying life cycle in real time. Instead of serving ads based on keywords and rotation alone, the AI considers a combination of the content of the ads, the intention of the user doing her research, and the user's context. Using that info, AI mechanisms inside Google determine how well all those factors lineup. If it detects a mismatch, the ads could lose impression share compared to other ads that are better matches. Interesting! Google Ads are akin to three dimensional Chess run through robots and assisted through machine learning.
Delivering ads that have a personal appeal and that also reflect an individual's behavior is hugely complex for a human being to manage. So Google has developed a variety of new ad formats and audience targeting to help simplify the process.
Responsive search ads (RSAs) are one such tool that can deliver headlines and descriptions dynamically depending on the user's context you are seeking to connect with. Discovery Ads and Video creative can also be layered in with custom audiences that are based on your website or customer behavior.
This year, our Google Partner reps have been pushing our team towards integrating automation and RSA BETA ads into accounts. Of the A/B tests we've been actively running since January, a third have seen positive results. A bit disappointing at first blush, but a loss in testing can bring other important insights to light.
Automation settings "out of the box" are not necessarily effective in their own right.
The majority of marketers at the conference were most excited about the ability to leverage their unique business data into their Google advertising through these innovations. That ability helps us close the loop on the factors that impact revenue and ROI. Currently, the process is still a bit cumbersome and labor intensive, and Google is considering how they can make it easier for advertisers. However, it is paying off for those of us who have already done the legwork.
So what does all this really mean for schools looking to reach their prospects in a cost-effective way? Understanding the pathway(s) to becoming a student, measurement, and testing are essential.
There are a number of new advertising features coming in 2019. Some may change the face of Google advertising as we know it. The best way to keep ahead is to get started. If a marketing company tells you this will be easy, we are of the view that is not the case. Going forward, you need to buckle-up and dedicate to learning about user context, or you might go backward. We are happy to sit with you individually and talk this through if you wish.
Tammy Miles for Enrollment Resources