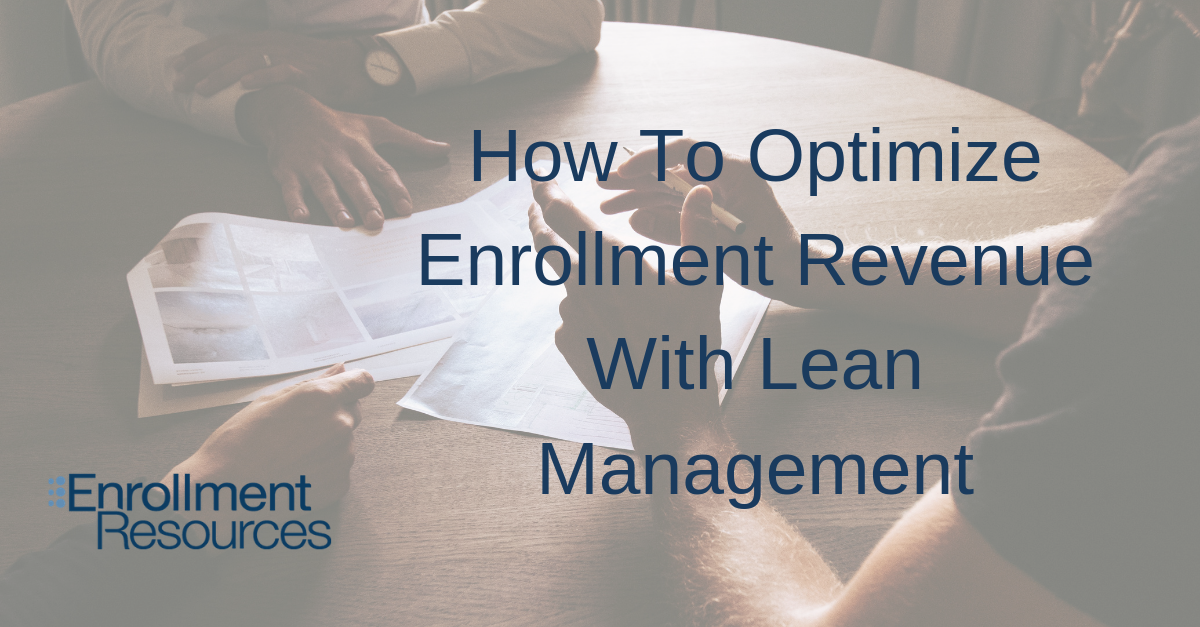 You are most likely aware of the operational discipline known as Lean Management. It's fascinating stuff, especially if you work within the Enrollment Management space. After this quick history lesson, you'll see why.
After World War 2, the Allies felt compelled to help the Axis Powers get back on their feet economically. In Europe, the Marshall Plan was put into play to help Germany and Italy get themselves right-sized. Although controversial at the time, the Marshall Plan worked well. In terms of assisting Japan, the reconstruction plans were not as well developed. One thing the Allies did do, was sent over as part of the reconstruction team, the controversial Economist Edward Deming, who was an expert in something called Choke Point Theory.
Deming's radical position at the time was simply this: opening up choke points and plugging leaks in any assembly process would allow for the free flow of material and labor, improving outputs with less effort. By applying Choke Point Theory to manufacturing processes, marginal producers could become profitable producers through plugging process leaks and opening constrictions in their operations. He caught the ear of companies like Toyota, Sony, and others, and it worked, big time. Today, many companies, including Toyota, Mitsubishi, Sony, Apple, and GE, use what is now called Lean Management to tremendous advantage.
What does this have to do with Enrollment Management?
In 2003, my partner, Shane Sparks, and I studied ways in which Lean Management disciplines, such as Kaizen, could be reworked and used within the Enrollment Management process. In breaking down the marketing, admissions, and student retention processes, we were shocked to find many points of constriction and leakage.
Through extensive testing, we identified over 32 major student-school engagement points, and a multitude of minor ones, within the standard Enrollment Management process. Every one of these 'engagement points' had the potential to be improved through split (or A/B) testing.
Picture an Enrollment Management process as a leaky plumbing system, where prospective and existing students figuratively 'leak out' of holes or get blocked at 'engagement points.' Inefficiencies at engagement points create financial stress for the school and unhappiness and distress for the student who is trying to take the big leap to build a better life.
Enrollment Management leaks and blockages happen at every stage of the process…
Prospective students leak at the marketing stage because their interest could not be corralled with an effective lead magnet. Poor website user experience leaves their dreams in a pile of dust before they can even contemplate improving their lives through education.
The recruiting process is often saddled with recruiters who talk and tell instead of actively listen. This mildly annoying process flips prospective students' feelings from interest to disillusionment in minutes. Again, their dreams are left in the dust.
A brutal financial aid packaging process characterized by benign neglect forces prospective students to give up and disappear.
Overwhelm in the first month of school is not addressed. New students just smile and drop out.
These are heavy problems weighing on the minds of Enrollment Management leaders tasked with solving them. It's additionally frustrating because solutions seem so elusive. But they are not. As mentioned previously, there are scores of engagement points one can test with surprisingly positive results.
A practical fix
At Enrollment Resources, we know there is a practical fix. Apply Lean Management solutions used with great success in other industries, toward Enrollment Management problems. For example, take the Lean Management principles from manufacturing, tweak them for higher education, and apply them to the pervasive Enrollment Management leakage problems that most schools face. Use best practices established in financial services and apply tests within admissions processes. Use split testing established in radio and test them within EDU.
Through our early work, Shane and I found that for every Enrollment Management engagement point that could be opened up to flow freely, most schools realize a combination of a 3% improvement in enrollment revenue and/or trimmed costs (such as advertising). Of course, put ten of these process improvements into place over time and gains compound quickly and steadily.
Plugging tiny process leaks and removing blockages will produce consistent improvements in your Enrollment Management process with little or no risk to the school. Additional staff is not required, nor does additional media need to be purchased. We just split test everywhere and do more with what we've got.
[av_button_big label='Listen on-demand now!' description_pos='above' link='manually,https://enrollmentresources.com/podcast-how-to-optimize-enrollment-revenue-with-lean-management/' link_target='_blank' icon_select='no' icon='ue800′ font='entypo-fontello' custom_font='#ffffff' color='orange' custom_bg='#444444′ color_hover='theme-color' custom_bg_hover='#444444′ av_uid='av-3wnuru' admin_preview_bg="]Is your school on a fixed budget, but also also needs to grow? Listen to Podcast #48 to learn how to increase enrollment revenue and trim costs at your school with no- and low-cost Lean Management best practices![/av_button_big]