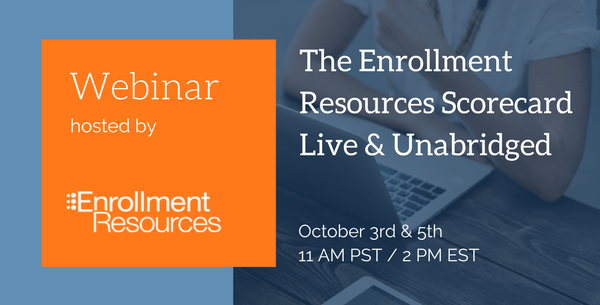 Do you want to see exactly where a school like yours is leaking hundreds of thousands of dollars from small cracks in their Enrollment Management Process?
Watch live as Enrollment Resources co-founder Gregg Meiklejohn attempts to uncover $1 million in lost Enrollment Revenues for a small Vocational School he has never met before… in only 45 minutes! Talk about pressure! Click here to reserve your spot.
Observe the spectacle LIVE at 11:00 am PST / 2:00 pm EST on Tuesday, October 3rd and Thursday, October 5th.
No matter Gregg's fate, the live EMScorecard™ GAP analysis will leave you with tons of process improvement tips and insider knowledge including:
The school's greatest operational points of leverage;
Several 1-2% opportunities they can seize upon and turn into rapid enrollment growth;
Key bottlenecks preventing the successful implementation of good ideas; and
How they're performing against competitors.
The Enrollment Resources Scorecard Live and Unabridged will no doubt have Gregg sweating bullets. Will he fall flat on his face or will he prevail? The staff at ER are taking bets… but you'll have to be there to find out. Make sure you save your seat!
[av_button label='Register' link='manually,https://attendee.gotowebinar.com/register/8021381912795365634?source=Blog+post' link_target='_blank' size='large' position='center' icon_select='no' icon='ue800′ font='entypo-fontello' color='custom' custom_bg='#ff7a1b' custom_font='#ffffff' admin_preview_bg=" av_uid='av-2ogsj1′]