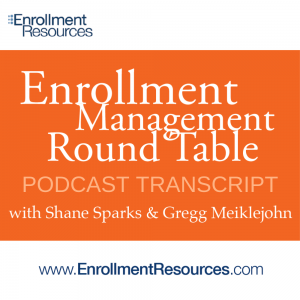 This is the full transcript of Podcast #51: Where Marketing Meets Admissions. Click here to listen to it on demand. 
Announcement:
This podcast is brought to you by Enrollment Resources, innovations in enrollment management. Learn more at www.EnrollmentResources.com.
Gregg:
Hello everybody. This is Gregg Meiklejohn, co-founder of Enrollment Resources, with Shane Sparks. And we have an interesting topic today, and it's a topic where schools literally lose millions of dollars in enrollment revenue just through small process oversights. And I'm going to kick that off by sharing a little story, and then we're going to go right to work and give you guys tons of tips. So I'd like to introduce our panel today. We have Tammy Miles, who runs our digital marketing program. And Tammy is one of the top thought leaders within the Google ecosystem, and has been for the last 15 years or so. So welcome aboard, Tammy. We'll be leaning on you later for some expertise.
Tammy:
Awesome. [crosstalk 00:01:01].
Gregg:
Good. And then we have Tom King, who's one of our C level people at Enrollment Resources. And Tom drives and oversees a lot of the strategy and execution on our software side of our company. Welcome, Tom.
Tom:
Good to be here.
Gregg:
And we have Anya Bierzynski, who is a veteran of the EDU marketing space and has been for many years. And Anya does special projects for us and does a damn fine job. Anya, welcome to our talk today.
Anya:
Thank you, Gregg.
Gregg:
So, I'm going to tell a story, you guys, just a super quick one. Okay, it's a football story, so if you hate football, don't hang up, it'll only take 60 seconds. There's this really excellent coach that… his name is Tony Dungy, he's now a TV analyst on broadcast. But here is one of the reasons that Tony Dungy was so successful as a football coach. What he realized was that offensive linemen of the opposition, they would do subtle little physical cues that would tip off what kind of a play would happen. And so what he would notice is like, for instance, the offensive tackle on the left side would move his left foot back six inches to prepare to pass-block, or he would move his right foot six feet back if he's preparing to do some blocking regarding running.
Gregg:
And he noticed this with a couple of the opponents, and so he hired a young guy and went through all of the film and created a correlation with different players on different teams of things they would do, which would essentially give away the type of play the opposition was going to go and put into place. So they were able to predict, on a kind of a batting average basis, if a running play was coming or a passing play. And it give the defense tremendous advantage, as they offered up defensive audibles to their teammate on the defensive side of the ball.
Gregg:
So that analogy may only appeal to some of you on the call, but it's fascinating that how something as imperceptible as to how a person places their feet when they're preparing to start a football play can determine whether a team wins the super bowl or not. So that's what we're going to talk about today. We're going to talk about little perception [inaudible 00:04:02], little breaks between where marketing ends and where admissions begins. And so the first thing I just wanted to talk about is, there are three players in this whole education enrollment management process. One is the marketer who feels pressure to create insertion orders that they call leads for the school. And then there are the admissions people, and these leads come in and they rub their hands and go, "Oh, oh it's a prospect. I can go in and fill my quota."
Gregg:
And then, of course, you have the actual victim in the play, the explorer, the student explorer, and all she's wanting to do is get research, as she's trying to go and create a life for herself, improve her or statute in life. And she has no idea that the marketing department and the admissions department are thinking of her in that manner. Tom, crazy? What do you think?
Tom:
Nope. You got the main three players down. That's the key, it's a dance between marketing, admissions and our explorer, and the goal is to hopefully help them explore their possibilities and move them into an opportunity to succeed.
Gregg:
So I guess with all the little breaks and fissures between admissions and marketing, there is an underpinning where, Anya, maybe to Tom's point, that the marketing department and the admissions department, with many of these schools, just lack, really, empathy, is the word I'm thinking of. I don't know, what do you think of that?
Anya:
In some cases, they simply don't even talk. They don't communicate the challenges across departments or the day-to-day, which they typically… Essentially, they're just operating in silos, which is never good for the overall success of a campaign.
Gregg:
And then these poor students, we call them explorers, are just trying to figure it out. Like, the life cycle, somebody wanting to go back to school to retrain can be up to a year and a half, and yet these marketing and admissions folks are thinking of it in completely different ways. So it's like looking at… What do they call that, Tom? Those blood tests, where everything… people look at it in a completely different way. Right?
Tom:
Sure. The old Rorschach test, and-
Gregg:
Yeah, the Rorschach test.
Tom:
… everybody's got their own different view of how things should be. And as Anya said, a lot of times marketing and admissions operate in silos, they're not on the same page in many cases.
Gregg:
So one of the things we can do to better connect the process between these three players, these three actors is we want to really… First, marketing tends to crap on admissions, admissions crap on marketing. The poor explorer tries to hide. But I think that a lot of it can sit right at the front, with marketing doing a better job of writing copy. So what that means is there's persuasion and then there is copy, and so… And that really is like a full, rich, no BS description of what life might be like to go to school. And so if you do that, you automatically eliminate… so, you eliminate prospective students, but question is, is by being honest, full, complete… What do you think, Tom?
Tom:
I think persuasion and writing has a lot to do with it. Marketing's function is really to generate as higher quality lead and as many leads, which is a dance between two different directives there for the admissions team to work based on a budget that they're given. So they're constantly having to dance between quality and quantity, and finding a balance between the two. But good copy that's engaging and gets an explorer to at least want to take the next step is important, and having a myriad of ways to grab the different levels of people.
Tom:
If I can, just for a quick second, we just did a webinar about a week or so ago, and I know Sterling at the Enrollment Resources and myself, we look at five different… just as like quick overview, five different ways of grabbing students from your webpage. One would be the apply now. Those are people that are super serious, they don't info, they don't want a tour, they're just ready to go, bam, they want to apply. Then having a book a tour button on your website, where these are people that are not ready to just jump in and apply, but they also don't need info, they just want to come see the school or get a virtual tour.
Tom:
Then you have people who are just there to request info. They're not at the ready-to-jump-in stage, but they at least would like info so they can explore it. Then you have our Virtual Advisor leads, which are people that are just below that, that… they're not sure what they want to do, but they'd like to find out if this might be right for them or not. And then you have the basic old contact us form. So just on a website alone, you can find five different ways to generate leads, all at different parts in the decision making process. But it's, at least, marketing's job to try to funnel some of those high qualified leads in, as well as find leads that are way higher in the funnel, who are were just exploring, and admissions needs to be able to take all of those different types of leads and then move them through the process.
Anya:
Right. And if I might add, in addition to having that engaging copy, you really want to ensure that you're focusing on compelling, and not only compelling, but also compliant creative. So in addition to all the higher ed specific regulations, make sure that your campaigns are certainly compliant. Because while it can be tempting to get very creative and you want to engage those would-be candidates as much as possible, you certainly want to make sure that you have your eye on compliance.
Gregg:
Well, that's it. Ad puffery, exaggeration in marketing, in general, has become the norm, but because in education we're dealing with a vulnerable population, almost, in many cases, one has to really lean on the side of being fulsome objective. And that's why, like, for instance, at our company, when we make landing pages for our schools, they're typically double the length in terms of descriptive words as others. But within that descriptive language, we're almost giving people an opportunity to say, no. Like, "Hey, this may not be a good fit for you." It all gets spelled out at the marketing level.
Gregg:
So professional admissions people, the really good people, maintain an objective stance and properly, in sales term, they call it qualification. That you qualify people to make sure they're an absolute [inaudible 00:12:45] fit. Many, if not most, admissions people are so into persuading people to come, because, I don't know, an inherent need to be loved, or who knows? But it can be done that way. And so marketing can do its part by qualifying by way of the spoken word.
Gregg:
There's a book by Claude Hopkins called Scientific Marketing, the Bible of marketing books written in the 1920s. And he says that you don't dress your, in this case, the admissions people up like clowns. So why do you write ad copy like you're a clown? And so the key is… I think, folks, the tip to take away on this is split test and see how many leads you lose by being honest, by removing all the puffery and being really full about, "Hey, massage industry career lasts an average of seven years." If massage schools put that on in their ad copy, I would venture that their lead flow might go down. But it's the truth.
Gregg:
And I guess my final word in talking about this is that there is no choice, going forward, that probably next year, there will be a heightened sense of rigor in reviewing advertising websites, what have you, to make sure that there's just no BS. And people might as well get ahead of the curve and get on it now. Anya, your final thoughts on that?
Anya:
No, I completely agree with you, a hundred percent, focus on compliance. In the meantime, you still want to create engaging… have your engaging creative. Many times, that's a successful differentiator for your offerings. Right?
Gregg:
Mm-hmm (affirmative).
Anya:
And also, know your audience. I think that's something that we haven't specifically touched on, but it's important to. From the marketing perspective, marketing is always, they're building their persona to better understand the user's needs, experiences, behaviors, and goals. Are they translating that to the admissions reps? Are they familiar with the personas of the organization, of the institution as well? Do they have an [crosstalk 00:15:36] understanding-
Gregg:
Cindy Lynn from Quantum Academy actually sent that exact question in, in advance, and I think we're going to go and dig into that in a few minutes. But yeah, you have to ask. It's all about thinking outward in, is the key. So let's go onto a new item here.
Anya:
Sure.
Gregg:
Optimum timing sequences to engage with explorers. So, there's some deep research that we've done in conjunction with Velocify in years past about optimum timing sequences. I'll just share it really briefly. Everybody listening, you can get a pen and a paper. I encourage you to split tests. The timing sequence is you phone, and then you check in at two hours, you check in then at four hours, you check in then at three days, six days, 11 and 13 days, for a total of six communications with two, maybe three voicemails within the six engagement points via the phone.
Gregg:
Now, the best time to connect with people is between 7:00 and 8:30 PM, Monday to Friday, and Saturday and Sunday, from noon until 6:00. So, now, we look at the sequencing that happens normally, and it's nowhere near that. And we look at the times of days when admissions reps are trying to connect with the explorers. And of course, they're nowhere near what I just described. And it takes a school to have a ton of courage to design the the hours for an admissions team to work from, call it 6:30 to 8:30 in the evenings and 12:00 to 6:00 on Saturday and Sunday. I think the first point of contact is absolutely key, and then how you sequence your communication is absolutely key.
Gregg:
Now, there'll be some of you on the call that say, "Well, if you're phoning on the weekends or the evenings, they're going to hang up on you, Gregg." But no, because we did a cross-tabulation on the average length of call, which was 36 minutes. And so it's effective to work from 7:00 to 8:30 and then on the weekends. Tom, Anya. Tom, weigh in first.
Tom:
I'm going to jump in. So this is near and dear to my heart. Some of those of Velocify studies are getting a little bit old now, but… And I think most schools probably do a lot more contact than that, and I would recommend probably more contact than that initially. But I think a key point here is that you have to have a cadence, whether it's that one that you just mentioned, Gregg, or something a little more. But the word aggressive sounds bad when it comes to admissions, but I think most of us are probably doing more than that, and you're adding text and such in there now, which initially was not shown to be as helpful as it is now. I think nowadays, it's significantly more important in video, email and those types of things.
Tom:
But having a cadence, working that, and I think also making sure that… Anya brought it up. I think it bears some further discussion too, is when you look at the persona of your students, is… And we do a lot of this with the Virtual Advisor, and this is where marketing and admissions both need to be paying attention to their students. What we've noticed is we've asked all of the students that fill out the Virtual Advisor forms, when are you most available? Morning, afternoon, evening? And you can sort that by campus, you can sort that by program, and you can get a better idea of when to staff, as well.
Tom:
Certainly, weekends, I think, as you mentioned, Gregg, works fantastic, but you have to look at it individually and by campus. You have to be intelligent about how you utilize the data and craft those personas, because maybe someone looking for massage may be available in the mornings. Someone looking at a medical assisting program at your campus may be available evenings, because maybe they have a higher propensity to be working during the day.
Gregg:
So Tom [crosstalk 00:20:24], let me interrupt you. So that seems crazy. So what you're saying is by doing some simple connection analysis, you can break out that the people seeking massage education tend to cluster and be available at certain times, whereas people who are seeking an allied health kind of a career, they might be clustering at another time, and so you can take your admissions reps who are really strong in the allied health side, maybe it's a grad from the school, a phlebotomy grad, become a rep or whatever. And you can cluster the admissions reps' time. Or military people maybe are available certain times, so you can actually fit reps who have strengths in those areas who can be more useful to the explorers. Is that what you're saying?
Tom:
A little bit? I'm not one for having certain reps work only certain types of leads. I feel they should be able to work all the leads. But yeah, you have a propensity for someone… When you do have like a nursing program, or something that's significantly different than a medical assisting program and it requires a lot more paperwork and knowledge of a what they're doing now, then totally agree with that. But yeah, I think you really need to understand your prospect from the marketing side and understand when to market and how to market to them. But on the admissions side, when are they most available? What's the sequence?
Tom:
I think one of the things that maybe we'll touch base on later, if we have time, is segmenting lists. So when you have a list of medical assisting versus cosmetology versus massage or automotive, or other programs, the way you market to those requires different messaging, requires potentially different admissions tactics, and also understanding the age demographic that you're working with, because maybe Facebook at messaging might work better with some of your medical assisting students or older students, whereas the high school students, using another method. So lots of different things, I think, to take into account and be a lot more scientific on.
Gregg:
So Anya, I think, in addition to what I call the buckets, which everybody talks about, "Oh, Google this, Instagram that, TikTok this." It's where these people hang out. I think what you alluded to earlier was there are… Cosmetology students maybe have certain traits in common, whereas maybe a phlebotomy prospective student might have a different kind of persona. And by grabbing and understanding those personas that tend to be attached to the careers, kind of truisms, if you will, persona-building, in addition to the buckets where people hang out, I think what might be even more important is the copy, how we speak to those people. So-
Anya:
Right.
Gregg:
… just babbling on to everybody generically, the way that reps talk to people, the way that the sales letters go out. Care to expand?
Anya:
Sure. So what I've seen in many different environments is that you'll have marketing build their personas for exactly what you described, the medical assisting student persona, that… Jane. Let's say they call her Jane. And then they build another persona, yet they… for another program, yet they fail, often, to communicate those personas to the admissions reps. So while the admissions reps are taking the intake from these successful campaigns, the admissions reps aren't changing much of their conversation to engage with those different segments and buckets that have come in, which is a missed opportunity, if you're not doing so.
Gregg:
Right. And so you start… Admissions people can start thinking of themselves as direct response marketers, and in doing so, they can split test. That split testing is the core to effective copy on websites and landing pages. An example might be an admissions rep is leaving a phone message and they're just thinking, oh, and they're mindlessly leaving their messages. But, if they think about that phone message as a radio ad with an audience of one person instead of 10,000 people, then they can start to split test how they leave their voice messages. So they know they have the best practices. Okay, I'm talking to somebody who's intrigued about phlebotomy. I know that as a persona, they tend to be analytical, maybe introverted, this, this, this, this. And then I'm going to start to split test, through trial and error, how I leave messages for people.
Gregg:
Now, in that regard, if people follow that best practice, after about a half a dozen split tests, they can get a range of five to 10% more people returning phone calls that otherwise would not. And what that means is if somebody is leaving, conservatively, 20 phone messages a day, that's 440 a month, that's an extra, I'm going to call it 30 meaningful conversations, and I'm going to say, instead of 15% conversion rate from phone call to start, I'm going to say it's 10%. So that's three additional students a month, per rep, by merely split testing the phone message aspect.
Gregg:
And then to Tom's point, there's other buckets where we can split test as well. There's email, there's text message, there's old-fashioned letters from the president of the school or the Dean. And so these buckets are all fine, but it's what's said, how it said, and that could be achieved through trial and error. split testing.
Anya:
Absolutely.
Gregg:
I'm going to move on now. First in, best dressed. Right? This study's still… I shake my head, but in digital marketing, if somebody has not responded to a digital inquiry within a minute, it becomes a sales list kind of marketing activity with a much lower conversion rate. I think it's like an 80% reduction in conversion rate if somebody is not responded to within a minute. So the business schools that are running best practice treat digital inquiries as if they're a phone call that's on hold, with that kind of urgency. I don't understand, Tom, why more schools don't do this, don't treat digital inquiries as if it's a phone call on hold. Because the connection to creating increased enrollment is tremendous.
Tom:
Everything should be an urgent phone call on hold. Every lead should be treated with that same level of urgency and attacked just the same way as if, again, someone had walked in your facility or someone calls into your facility; be ready to speed the lead and treating people as if they were on hold with the same enthusiasm level as walking in is really critical.
Gregg:
Anya, I heard when Jay did marketing pro, say that digital leads have the life expectancy of a fruit fly. I guess really, where the research sits is that of 64% respondents in surveys of students felt that the first school that reached out to them had a distinct advantage. It's almost like a positioning process, but in micro-cosmic terms. Even if the second, third, fourth people who contact were superior, that first person has an advantage. It's interesting, isn't it?
Anya:
Yeah, no, absolutely. When you think that our role as marketers, our primary purpose is to deliver the right message, at the right time, to the right customers. If you're doing your job as marketing, then… which is delivering the right content at the right time to the right customers, why wouldn't you call them right away?
Gregg:
Well, exactly, because you you're there to help.
Anya:
Right.
Gregg:
And you're there to help them in their journey. Now, where the disconnect sits though, is there's a term called the awareness journey, and that's basically where you just have an inkling of an idea about going back to school to, "Oh, more interested", "Oh, I'm researching. Maybe there's a false start, I'm going back to school." And then a year, year and a half of this journey, there's a, "Okay, I'm ready to go to school." And the schools think that if they get a hundred "leads", Oh, they're all ready to go. No. 10 of them are ready to go to school. And 20 of the hundred-
Anya:
Right.
Gregg:
… are close, but require some good, high quality counseling from the admissions people, and 70 are just… they're like the green cherries on the cherry tree. I've used that analogy a lot. And you don't pick green cherries off the cherry tree and then yell at them to go and make them become red. Or you don't pick carrots out of the garden early to see how they're growing. Just don't do that. And so there is a total tone deaf situation with a lot of marketers who just are not dialed into the awareness journey of where these explorers are.
Gregg:
And I guess in the absence of marketers doing a proper job, it's the job of the admissions people to qualify prospective students explorers. One, do they want to go back to school? But two, where are they in the awareness journey, and how can we, as a school, provide you supports while you're trying to figure out daycare, or you're trying to figure out finances, or you're trying to figure out, is this the right career for me? Does this bring me joy? The awareness journey is a continuum over, I'll call it a year, and so often, I guess, marketing people and admissions people, many of are just flipping tone deaf, man, and it just drives me crazy. Anyone want to weigh in on that opinion before we move on? No?
Tom:
I think you covered it.
Gregg:
Okay. Anya?
Anya:
No, I'll just also… Excuse me, add that the sort of omni-channel approach to that outreach from admissions is also important. So equally, as you would in marketing, that consistent messaging needs should continue throughout the engagement awareness and conversion stage of that candidate. So contact them by email, text, voicemail, sales letters, whatever. Whatever it takes to get them as familiar with your brand as much as possible, so that you continue to develop trust with that prospective candidate.
Gregg:
So here's a tip. When the admissions people reach out and they say, "Hi, there's this thing called the awareness journey, and I want to support you. But are you ready to go to school now? Are you just thinking about it? I can help you in different ways, depending on where you are. Can we have a phone call and I can help determine where you are and then give you resources and supports that might help you gain clarity?" Now, I just invented that. That would be something worth testing, that as a little email, a text message, phone message, to see how many people would respond. I would bet a case of beer that there would be a lot of people responding to that kind of a reach out, because it's respectful and it's other-conscious.
Gregg:
Now, we're going to move to a different part of our talk. What we've done now is for those of you that have signed up, we've invited you to bring to bear specific things that are bugging you, questions. And so we're going to now make this your talk. And I've got some that are written down, and then we might have a couple that people just want to… you might want to type into the chat box, if you want clarifying questions. You've got four smart people here, Tammy's going to dive in here soon, and lots of experience. So you might as well take advantage of it, if you want. Okay. So this is from Cindy Lynn, Quantum Academy. Cindy, thank you for this. Her question, how do you identify, target and narrow down customer segments? And how do you distinguish best way to approach each segment? So Tammy, are you there on the line?
Tammy:
Yep, I'm here.
Gregg:
Cool. Now, your expertise… you have deep expertise in paid search. Why don't you speak to this through the lens of having
to work with Google? Fire away, give us a couple of little thought starters.
Tammy:
Sure. I think when it comes to segments, it kind of goes back to what Anya was saying about your persona. That's really the best place to start. So as an example, we keep going back to medical assisting, but it's a good example. We know that a high percentage of those people are female, quite a number of them have another job, so they're juggling a lot of different things, and they might have children. You really kind of start with your copy really addressing the pain points of who's the main person that you're speaking to.
Tammy:
And I think in doing that, you're not really excluding anybody else who may not be in that bucket, but it just gives you a better chance of really connecting with that higher percentage of your student body. And then when you're developing your campaigns, it's, obviously, you're matching that message, as well. If you're trying to explore maybe getting more male students for medical assisting, then there's ways to sort of segment by gender and the ad count, and then you would change up probably more your hero images and things like that. But really, it comes down to… You can really segment a lot, but then that becomes a burden sometimes in sort of managing all the different segments. At least starting from that point of, you're targeting a particular program, you really have a strong understanding of who that best student is and you really shape your marketing around that and your admissions as well.
Gregg:
Got it. So it's personas first, then it's the nature of the connection, the way of the copy second, and then it's… the delivery system is either by written word or little videos or what have you, those are buckets, or delivery systems to go into the buckets. And Google, we don't want to get into it now, really, because it'll get pretty dry for people, but there's many systems inside the Google AdWords system, where you can tighten and target people. Just share a couple of obscure ones, Tammy, that most people may not know about.
Tammy:
Sure. Let's see. You could target people who are kind of in a career exploration phase by various audiences that Google has predefined, you could target people who are literally in market for post-secondary education, so they know by their signals that they're looking to go back to school. You can do a lot of this ad creative, where you're like, "Okay, I want… My particular audience is like in that sort of financial student scholarship bursary exploration phase," and you could target a particular ad with an if statement that's called, so you're only showing that ad to that particular audience within your sort of… whether it's a search marketing or a display campaign, so that you're really speaking directly to that person at that stage that they're in. So there's a lot of different layers you can try within the [crosstalk 00:39:27] as creative side.
Gregg:
So Google can now, Cindy, tap into the awareness journey. So the one that Tammy shared with me that blew my mind, that really explained it well is, Google knows that if you're in your 50s and that you have this type of job, primarily blue collar, the odds of you renting an RV are X percent. Based on where this person boots around on the internet, you can create ads for it at the early stages of the awareness journey, the middle and at the end. Right, Tammy? It's a different messaging through the process.
Tammy:
Yeah. Yeah. That particular piece would be probably more towards the end. If you're looking at… your target audience is 50 and are interested in vacation rentals, that might be the top end of the awareness, and then you refine it as you go through the funnel. Sure.
Gregg:
Now, of course, then, Cindy, there's geotargeting tricks that not a lot of schools will do, but they're certainly worth testing. And the geo-targeting, for instance, we have some clients that are on train lines or on express bus loops, and so it would make sense to geotarget maybe a couple of miles around a given bus stop or a train station, to grab interested people that would not necessarily get [inaudible 00:41:07] just made a circle around a school, and a third of the circle is a body of water.
Gregg:
So geotargeting is… Basically, you can create a map around population densities where the ads will drop there, but won't drop outside of the geotarget. You can geotarget competitors. If you have a smaller career school and you're close to a huge not-for-profit school, you can drop ads in amongst these huge lecture halls. If you're at a small allied health school, you can find out where the big allied health lecture halls are, the nursing, the medical halls, and you can create a geotarget. And in that ad, you can say something like, "Are you sick of these huge lectures? Time for hands-on learning, click here,"" as an example. And just get super precise in connecting precise niche and market tightly. And Tammy, I guess the last thing is, people talk about keywords, maybe a key phrase, but your experience has been long, descriptive sentences have potential to really better qualify prospective people who are searching on Google. You want to expand?
Tammy:
Are you meaning like, what people are searching for in terms of long [crosstalk 00:42:48].
Gregg:
Yeah. Yeah, that's right.
Tammy:
It's interesting. The last few years there's been a lot of evolution in Google's sort of, you can call it framework architecture, around keywords, and that's always ongoing with Google. What we find most often is when it's programmatic keywords, layering and geography is really an important factor. Because sometimes if you're not laying in your geography in your keyword mix, you might not always show, so you're losing some impression share there.
Gregg:
Okay.
Tammy:
But they are-
Gregg:
So you can make long sentences using various filters, and it's worth testing, for sure, to get a better connection. Okay. I'm going to move on, though. I just noticed the time, guys. So Kenneth [inaudible 00:43:41] from Bethany Global University. Question, what are the top five practices for lead to start apps? So the broad buckets would be CRM, conversion rate optimization, harvesting, my page on Google. Tom, why don't you take a crack at this one? It's an interesting question.
Tom:
So, there're so many things. This is a weirdly wide-ranging question. So practices from lead to app or lead to start, there's so many things that get involved. If I start from the beginning… and I'm just going to talk about some of the things that you can be doing. Number one, at the front of the funnel, and I'm just Going to talk to the admissions side, is make sure that you have some sort of speed-the-lead a type of system set up with your CRM, so that when a lead hits, you're able to respond immediately, within 60 seconds. So I think that's a key at the front of the funnel.
Tom:
I think also, at the front of the funnel, in my opinion, appointment setting and appointment shows is the number one piece of admissions. I think if you don't have a pipeline and you don't have enough people showing up, it doesn't really matter how well your school looks or how well you close, or any of those things, if you don't have enough apps. And this is where most schools struggle. So I think having a good process and script for, not only your contact strategy, what is that, that we talked about earlier, when do you call, when do you text, when do you email, when do you leave a voicemail, and what are the scripts that you use in each of those processes? You don't leave it up to your reps and you don't let them wing it. Everything is scripted, they're practiced, so they sound fluent and engaging, but we give them the word optimizations to be fantastic at what they do and really make that connection. So-
Gregg:
Similar to our-
Tom:
… I think those two practices are great. And then making sure that you have an outstanding presentation virtually. I think right now, virtual is the absolute way to go. Virtually present your school, virtual tour, virtual interviews to get people moving. And then lastly, I think having a fantastic follow up plan and follow up is the key to success there, and having a scripted outline of what happens if they don't show, what happens if they do show, what happens if they do show but don't enroll. What do we do next, step by step?
Gregg:
So Kenneth, that was a pretty high level response. If you want some specific nuggets, just get on with us and we'll share you a few specifics.
Tom:
Love that question.
Gregg:
Lisa Kenyon from Aveda Institute, how to decrease no-shows, how to improve the show rate. We have our remote admissions pathway, which improves show rate. I think it's around 30, 35% over the previous best practice. That's a big thing to do. A small thing to do is two hours prior to the appointment, send a text message. And it could be something like, "Hey, we got hot cookies and coffee for you. Look forward to seeing you." And if they're planning to bail on you or if they were just… they'll get back to you and they'll go, "Oh my God, I can't make it. Can we rebook?"
Gregg:
And so it's a great default for those no-shows to actually step up and be accountable. And most of those people will rebook with you. So that's a little tactic you can use immediately. Again, text somebody two hours prior to the meeting, "Hey, look forward to seeing you." And then you'll have some people who will bail on you, but they'll do it because they've been busted. And then most of those will set up another appointment, which will really improve that metric really quickly.
Gregg:
Okay. Crystal Morgan, Bryant & Stratton College in the Northeast there. How will colleges connect with high school juniors and seniors in the virtual environment? Okay, I'm going to speak to this. We have a thing called our high school pathway, which is like a way to connect with prospective students really well. I would use Zoom meeting in conjunction with that tool, but let's talk about Zoom meeting. Your bucket has historically been the high school, and you convince the guidance counselor to let you in and meet the students face-to-fac, and it can be really effective. And then educating the high school counselors on your school. That's broadly the typical process.
Gregg:
But of course, now, with many being virtual, you can try a Zoom meeting, but a lot of these guidance counselors might just rebuff you. So your third option is to do an end around. And so what I would recommend is a TikTok campaign. You can do this at the state level, you can geotarget to the state level, which is not a home run, but it's still pretty good. So you go where the high school people hang out, so I'm using TikTok as an example, and you invite people to a Zoom meeting, a virtual information session. And I would say that's your quick fix. You could do that really quickly, easy, easy.
Gregg:
Okay. So this one's for Anya. Roberto Garcia, University of Denver, which I used to play against in rugby years ago. If we start pinging inquiries in August, one email per week, how many weeks out should we stop messaging inquiries and let go. Anya, what do you think?
Anya:
This is my point of view, until they tell you to stop.
Gregg:
Ah. Okay.
Anya:
So I think that in addition to… Remember, the nurturing aspect is key to building familiarity with your brand and to build trust over time. So if this particular candidate is, or candidates are in the beginning of their research phase, it may take them 12 months to make a decision. So you certainly want to continue to keep them engaged, to have them become your ambassador, because they're so familiar with your brand. And until they tell you to cool it, I don't think there's a need to stop.
Anya:
Another thing that you might want to look at is that when there is the option to unsubscribe, that you give them the option to dictate the cadence in which they want to, perhaps, receive your messaging. So you're also providing to them the opportunity to determine how often they want to hear from you. And that may not on a weekly basis, it may be on a monthly basis now or in six months, revisit.
Gregg:
And Roberto, what I would recommend is you start in June, if you're talking about a September intake. Everybody, all your competitors are all starting in August. And what I would do as a tactic to… something to test is cluster. So email, email. And then I'd go three emails, a day apart, building like a mini course. And that can work really, really well as far as creating enough critical mass to go and engage them on a point of view, often one reading. The open rate might be 30%. So if you have a mini course with back links, if they've missed the first two, and they're on the third one, to talk about one aspect of career planning and the UV, as an example, consider that as well.
Gregg:
And then to Anya's point, go until they stop. Can span laws are excellent. I would make the unsubscribe button prominent, just as an ethical consideration. And then with that bargain of having a prominent unsubscribe button, you can continue to educate. Now, to Anya's point, you might want to write this down, repetition creates familiarity, and then familiarity creates one or two things: contempt or trust. In other words, if the copy is garbage, then you will just create contempt. You're being spammed, hassled, it's mindless, it's not connecting to your needs. But if through repetition you create familiarity and the content is relevant, then it creates trust. Would you not say, Anya??
Anya:
I agree.
Gregg:
Now, we have four more questions, possibly one or two more that Christy has, but… So let's go with some crisp answers here. Colleen [inaudible 00:53:53] from IAHA, what's the best way to communicate with Google AdWord leads? So the scenario is they've gone through a landing page, they've filled out a form. I think Tom, we've kind of spoke about this, is we want to connect quickly. We also have our Virtual Advisor, which… it's like two hours worth of intel, where a person completes information. Do you want to quickly just take 30 seconds and expand up on that?
Tom:
I think there's not a huge differentiation between communicating with your Google ad leads or your website leads. Just communicating in general is speed to lead, get on it quickly, get on it with a defined cadence, and make sure that you do understand the persona of that person and what does it take? Make sure that you've got a defined plan. But I wouldn't change my approach, necessarily, for Google ad leads versus website-generated leads. The approach is the same. It's, get on it within 60 seconds, 30 minutes later, two hours later, the next day, skip a day, whatever it might be for you, using a defined plan, and work through those leads. And if you've got a tool like Virtual Advisor that gives you a little bit more insight, then you can craft those personas a little bit more and have some additional methodology to get there.
Tom:
I'm going to get real quick too, on the lead nurture piece. Send them something of value too. Don't just send them an email saying, "Hey, we have a class starting in two weeks." That's the easiest way to get someone to unsubscribe. Send them a video, an article or something of value every single time. Same thing here, with these Google ad leads, give them something of value constantly, and they'll be much more willing to move forward with you.
Gregg:
The nice thing about Google ad leads is, like this rifle shot, you'll have a really clear idea of the type of person, based on the keywords. Admissions should be receiving, in their CRM, the keywords, or at least the type of landing page, so that they can get very focused. Again, repetition creates familiarity, which creates trust or contempt. If you're just talking blah-blah-blah, contempt. If you're just sending them whatever, contempt. But if you're really dialed into their persona, then that's trust. If you send them stuff that's useful, as Tom says, trust, trust, trust, trust by being relevant. Because we're all getting a little bit of fatigue around getting information and offers and Zoom meetings [inaudible 00:57:01].
Gregg:
Okay. So, we have Andreas Belina from Florida Technical College, i.e the DAVE school, award-winning DAVE school. What is the cleanest way to measure the performance of the relationship between marketing and admissions? So is there a way to measure whether the silos are communicating some clean, easy metric? Anybody have something for that? Anya, Tom? No, that's a tough one.
Tom:
My quickest thing here is using… You have six metrics: contact rate, appointment set rate, appointment show rate, closing rate or application rate, packaging rate, and then start rate. And you need to track those by lead source, and that, to me, that's the easiest way to track your performance, is you use those six metrics by lead source and you get a good sense of which leads convert best, so that you can continually improve your marketing mix.
Gregg:
But Anya, I think what Andreas is asking about is, is there a way, a clean metric, to see if marketing… the lead flow from marketing to admissions? I guess it really is the contact rate. If the contact rate plummets, then there's a [inaudible 00:58:37]. So you know what, Andreas? You're a good client of ours. I think this is worth a separate… There's no clean answer. I think contract rate is a good thing to look at. If the contact rate on digital leads is 10 or 15, 20%, then you've got a problem in terms of how the admissions rep are dancing with the leads. I think we'll call you later. This just needs-
Tom:
Cost per start start is not a good one.
Gregg:
Yeah, there you go. Cost per start. Okay. So, two more. We're just at noon right now, we're just little bit over time, you guys. Caitlin Sug, New School of Architecture and Design. What is your advice for a very small marketing team struggling to prioritize lead gen versus lead nurturing? So what I might suggest to you as a time saver is you can create persona-based, what I call auto responders, and they run in a sequence that you can dictate, and that could be all organized if you have a good seat CRM, like a Verity comes to mind.
Gregg:
And so what happens is you write it once and it automatically pushes out and it's personalized. So that could be a way to save a lot of time on your lead-nurturing. And then inside, you can have automatic offerings, shaking the cherry tree for the red cherries. So that's a way to save a bunch of time. On the lead-nurturing part, the lead gen side is really… to Tom's earlier point, you need to have a volume of interest, I'll call it, from explorers, and then your job, in terms of direct response, marketing and admissions is to determine, as quickly as possible, where the explorers sit in their awareness journey and then not piss them off by sending them things that are not appropriate. Like, I'm looking at Teslas, and if somebody got ahold of that information and just started hammering me about buying Teslas, my odds are one in a hundred I'll buy one. But the odds are 99 out of a hundred that I will not go near a Tesla dealership for the life of me.
Gregg:
So I would say, be smart with your lead flow and prioritize them where they are in the admissions, in the awareness journey, and then deal with them appropriately. Admissions people will deal with people in this part of the journey, your auto responders can deal with people in that part of the journey. So qualify and organize them. Anya [crosstalk 01:01:46] final 30 seconds?
Anya:
I think that you really just want to automate as many low value tasks as possible, so that your admissions reps are having… their time is really just spend on having engaging conversations with prospective students.
Gregg:
Yeah. That's what I was trying to say.
Anya:
I helped you.
Gregg:
Thank you. Okay. Final question. Crystal Stevens from The University of Antelope Valley. Love that name. What specific data is shared between marketing and admissions, and how often? I would say, Crystal, it's very… Typically in EDU, it's very silo-oriented. Particularly in the not-for-profit side, they don't dance that well together, and therein is the whole purpose of this webinar and sharing some thought starters. It's a perfect segue. They don't. Everyone's in silos, they don't dance together very well. The ones that do are incredibly well… And I think what should happen is really be like a hockey trade; marketing should share their data with the admissions recruiting team, admissions recruiting need to share back. Because the marketing people have to know where things are failing. And so we've laid a half a dozen ideas with you today. Well, more than that, but… We're happy to go and dig into that with some detail, if you want to reach out. Christie, anything to add before we jump off?
Christie:
We had a few other questions, but I think that these questions would be happily answered more on a one-on-one as well. And the only thing I have to add is that that was great and very informative.
Gregg:
Well, thank you. Thanks for organizing all the details of this. And Tammy and Anya and Tom, thanks for chiming in with lots of good thought starters, precise information. Folks on the call, I'm hoping that you could take away three, four, five thought starters that you can initiate on. If you want a little more support and ideas, feel free to reach out to us, and we're happy to spend a bit of time with you on the phone. Thanks, again, everybody, and have yourselves a productive day, stay safe, stay healthy, don't let anybody sneeze on you, whatever you do. So, take care everyone. Bye-bye.
Christie:
Thank you.
Tom:
Thanks a lot. Bye-bye.
Announcement:
This podcast is brought to you by Enrollment Resources, innovations in enrollment management. Learn more at www.EnrollmentResources.com.