Tammy had put out the word some weeks back. "Who wants to volunteer at a huge Christmas dinner for families less fortunate on December 17?" You know when you volunteer for something it seems way off in the future? It came up quickly — last Saturday was the day.  I picked up Tammy and Savannah in Sidney at 8:00. Powdery snow hit our faces in the cold, unusual for Victoria. We headed for the Songhees Wellness Centre on the Songhees and Esquimalt First Nations reserve between Victoria's suburbs. There, Alex and Catherine joined us. The organizers told us there'd be about 50 of us volunteers and a few hundred guests. We also knew that we had volunteered from 9 to 4, seemingly a long time just to serve a lunch. But there was much more to it than that.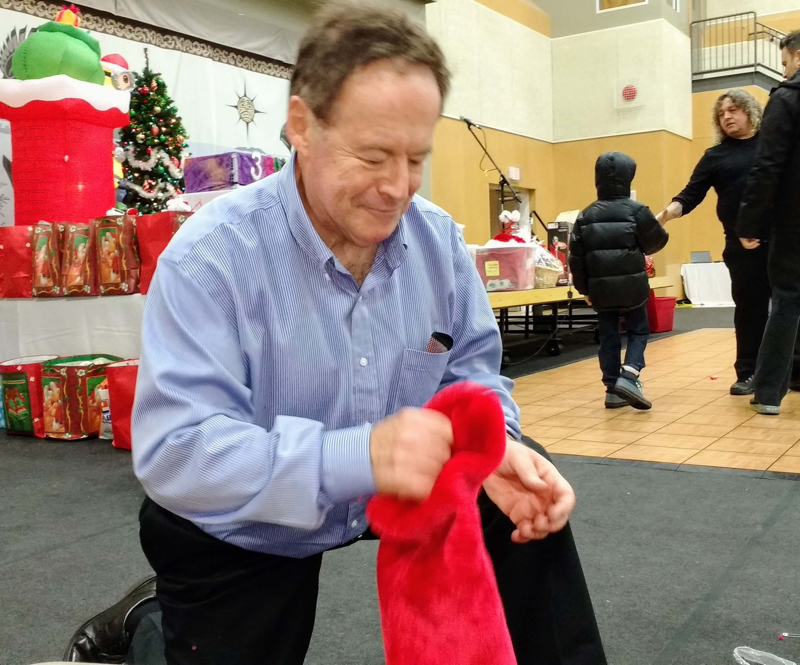 Paul Bertorelli fills stockings for disadvantaged kids
Decorations and Gifts and Zamboni Vacuums
The gymnasium/hall was pretty stark at the start of our shift – it was a sea of round, white tables, with a big stage at the front. But the organizers from Extreme Outreach had clearly done this before (19 times, in fact), and they had everything we needed to turn the cavernous hall into a busy Christmas Wonderland.
Bit by bit, we transformed the place with colour. Organizers brought in sacks and sacks of presents to sort through and place out. We carried out oranges and poinsettias to all the tables.  At the front of the hall, Santa's helpers carefully arranged presents according to age and boy/girl. They stacked piles of stockings so high as to threaten a red avalanche. Pink and blue helium balloons were filled and tethered with ribbon to the stage. We set out hundreds of places with cutlery, and provided mini teddy bears and lollipops at each table in anticipation of fidgety, excited children.
I had the task of vacuuming the areas around and between the tables with an enormous vacuum/Zamboni/lawnmower thing. Dozens of servers from Central Baptist Church and Glenlyon Norfolk school started streaming in. Soon, photographers and foremen milled about, making sure everything was ready and that they had the right angles for their shoot. Around noon, we donned our elf hats and red bow ties, and got last-minute instructions to our teams. Runners delivered the food from the kitchen, while hosts brought drinks and dessert and carried used dishes away. Servers lined the buffet table, while kitchen help heated food and scrubbed huge trays.
How To Serve 500 Meals
Finally it was time for our guests to arrive; we could hear the cheering of children and adults alike from the entry hall. All of the hosts lined up at the door to greet the guests for our table as the doors opened up and let them in. A ladies' choir assembled in front of the stage and sang the families through the food lines.
Our ER team divided into different posts, but we would flash a grin at each other as we raced about. We kept busy bringing out steaming food, serving it, fetching drinks for our tables and making sure everyone had everything they needed from moment to moment. It's good to be in a situation like that with people you know and work with and people you've never met before. While the organizers were experienced at this meal and all the preparations needed, most of us on the floor that day were there for the first time.
The Best Gift: Volunteering
After lunch we discreetly moved plates and platters away; meanwhile, children and their parents jostled each other for the sock toss, the stuffed animals, and the bicycle draws. Finally the kids received their presents – handed out from the tables we had piled high earlier. By four, the last of the families had headed home, and we mopped up from a very full day of service.
I was both happy and moved to be with workmates in a different setting, for a good cause. The things that make it easy to work together are very portable for us, and this project bodes well for other community activities we no doubt will pitch in on in the future.
— Paul Bertorelli, Enrollment Resources Business Liaison