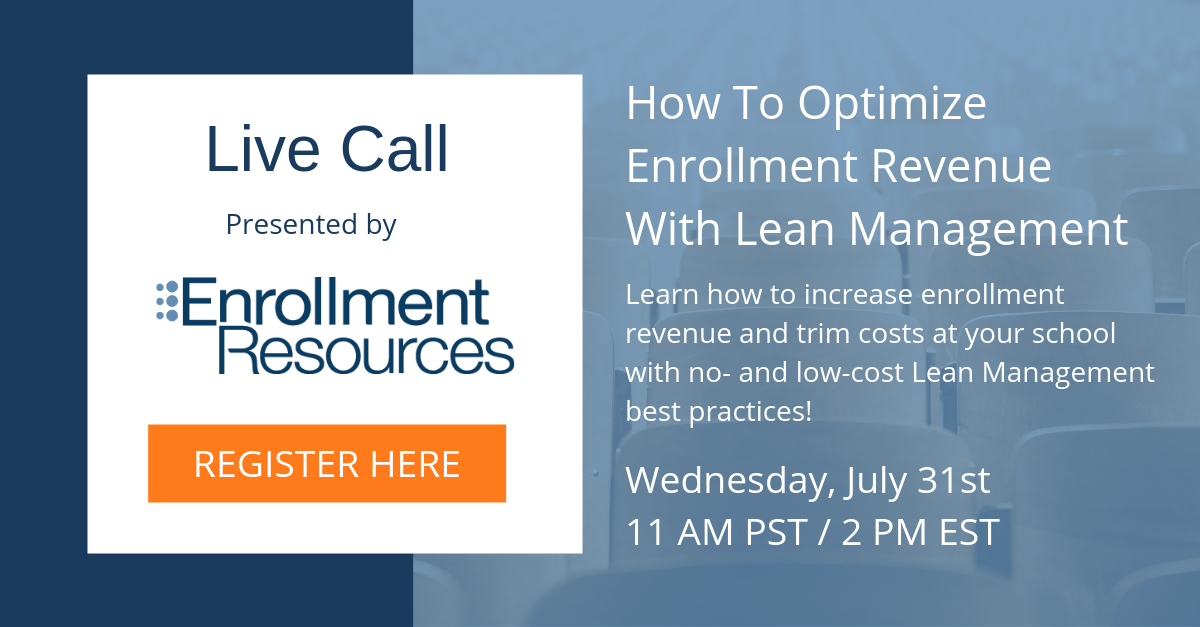 Did you know that your school's Enrollment Management process can be optimized using techniques perfected at companies such as Toyota, Sony, Apple, and GE?
… And that you can apply them at your school immediately without spending a dime?
Webinar: How To Optimize Enrollment Revenue With Lean Management Best Practices
Date: July 31st, 2019
Time: 11 a.m. PST/ 2 p.m. EST
[av_button label='Register Now!' link='manually,https://attendee.gotowebinar.com/register/9143392861591652365?source=blog' link_target='_blank' size='x-large' position='center' label_display=" icon_select='yes' icon='ue812′ font='entypo-fontello' color='custom' custom_bg='#ff7a1b' custom_font='#ffffff' av_uid='av-25trsa' admin_preview_bg="]
Opening choke points and plugging leaks in any assembly process allows for the free flow of material and labor, improving outputs with less effort. Marginal producers can become profitable producers by merely applying no- and low-cost lean management principles.
Register for our July 31st webinar and learn how to open up the choke points in your processes to increase enrollment revenue and trim costs at your school!
Join Gregg Meiklejohn, Shane Sparks, and Tom King on July 31st to learn…
How no- and low-cost best practices — inspired by seemingly unrelated industries — can help your school grow while on a fixed budget,
How to open the choke points in your Enrollment Management processes through split tests that you can apply immediately at your school, and
Actionable and DIY ways your school can increase lead flow and improve conversion rates WITHOUT spending a dime!
Don't worry – applying Lean Management best practices is not as hard as you think it is. Register now!
[av_hr class='short' height='50' shadow='no-shadow' position='center' custom_border='av-border-thin' custom_width='50px' custom_border_color=" custom_margin_top='30px' custom_margin_bottom='30px' icon_select='yes' custom_icon_color=" icon='ue808′ font='entypo-fontello' av_uid='av-3mqs16′ admin_preview_bg="]
Want to get a head-start? Read more about Lean Management at your school here!