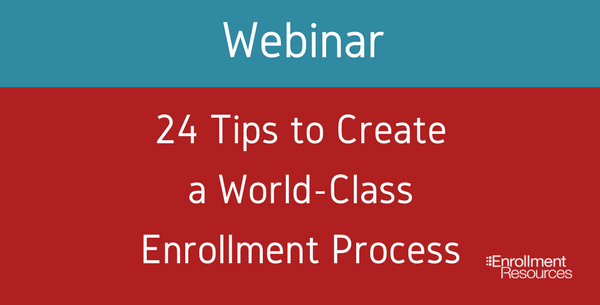 11:00am PST / 2:00pm EST
24 Tips to Create a World-Class Enrollment Process
---
 Leaders Aspire to Have Their Schools Seen as World-Class.
You want your school to be recognized like Tesla is to Electric Cars, or Apple is to Smartphones. The Enrollment Management Process captures all the touch points: from interest to lead, from prospect to student, from testing to graduation. Incremental changes can make amazing leaps forward, moving your school toward world-class.
Velocify EDU leader Steve Davis joins Shane Sparks, Gregg Meiklejohn and Tom King of Enrollment Resources and explores up to 24 thought-starters in a series of 5 weekly interactive calls on how you can take your Enrollment Management Process to the level of world-class. Whether it's marketing, admissions retention or grad services, you will take away several thought-starters to reflect on.
A Taste of the Great Thought-Starters Shared in Week 1
We had a great talk last Wednesday with an overview on "24 Tips on how to Create a World-Class Enrollment Process." Our panelists shared thought-starters in each of the seven aspects of Enrollment Management. Here's a taste:
Give admissions reps lower lead totals and higher quality leads. In a recent study, Velocify found the optimum number of leads per rep per month was actually only 20. Instead of pursuing tons of leads, focus on creating quality leads that you can convert at 15% to 20%.
Know when your prospects are available and adjust to it. According to our Virtual Adviser admissions automation software data, 60% to 67% of respondents currently work and the best times to reach them are evenings between 7-8pm and weekends 12-6pm.
Book a visit within 24 hours of the call. The likelihood of a visit decreases 10% per day because enthusiasm and motivation are lost. Put the odds in your favor with a nurture campaign.
Qualify hard and have the courage to walk away. Schools are ultimately in the credibility business. Help your admissions reps evolve from vendors to trusted advisers: make sure your school is a good a fit for the prospective student and make sure the prospective student is good for the school.
Feedback loops! Catch the quiet, desperate students who are considering bailing. These "Canary in the Coal Mine" communication loops help retention rates and identify opportunities to improve your nurture campaigns.
NOTE: All of these tips and more will be compiled into a whitepaper at the end for attendees – make sure you save your seat!
Wednesday, July 26th at 11:00am PST / 2:00pm EST take a deeper dive into how your school can create buzz and generate interest – and in turn drive up quality lead production. Invite your colleagues and bring your toughest questions for the Q and A at the end – just like on a radio talk show!
Looking forward to you and your colleagues weighing in; see you July 26th.
[av_button label='Register Now' link='manually,https://attendee.gotowebinar.com/register/3153820845053443331?source=website' link_target='_blank' size='large' position='center' icon_select='yes' icon='ue836′ font='entypo-fontello' color='orange' custom_bg='#444444′ custom_font='#ffffff' av_uid='av-89u0a']
After registering, you will receive a confirmation email containing information about joining the webinar.