Podcast Transcript: How To Set Up Effective Remote Admissions Fast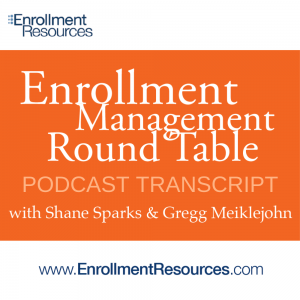 This is a transcript of the edited recording of our popular April webinar How To Set Up Effective Remote Admissions Fast.
Announcement:
This podcast is brought to you by Enrollment Resources. Innovations in enrollment management. Learn more at enrollmentresources.com.
Gregg Meiklejohn:
Welcome, everybody. It's Gregg Meiklejohn with Enrollment Resources and I'm here with my colleague and peer, Tom. How are you today, Tom?
Tom King:
I'm doing fantastic, Gregg. Thank you.
Gregg:
So Tom, we know COVID has obviously required schools to make a hard pivot to deliver online education, the ground schools. And so learning how to teach is number one and then remote admissions is task 1A, hard on the heels of learning how to teach remotely. And so you claim actually that remote admissions is long, long overdue. I'm curious about that. Explain that.
Tom:
Certainly. I mean, I've really felt this was where we would be in just a couple of years, but it's been around for many, many, many years. I've been doing it since early 2000s, 2004 timeframe. For those of us that have been doing international admissions or out of state admissions, you've had to find a way to do this. And with the enhancements in technology these days, there's no reason not to be. So absolutely, it's long overdue, and some of those schools that have been prepared for this, finding it a pretty easy transition. And for some people, it's a little bit more painful right now, but getting pushed a little bit to do things maybe quicker than they expected or wanted to, but as I mentioned earlier, I think it'll really pay off down the road for schools.
Gregg:
Well, an example is prior to Shane Sparks and I starting this company in 2003, I worked at University of Phoenix as an internal consultant and I floated around and took on internal projects and those guys had really nailed the how to work with explorers and existing students. And I was like a sponge. So between the two of us, I think we have some ideas to share here.
Gregg:
Okay, so let's look at some glossary items. So in the old days, leads and prospects are now called explorers. We call them explorers. Some third party companies, legal lead providers, they're very crass. They use the term datasets, and insertion orders. But explorers are not datasets, they're human beings that are trying to make a life change. So give me your take on explorers. Is that a silly comment or what? What's the deal with explorers? How do they need to be treated?
Tom:
Well, certainly, the reason we use that term is these people are simply, right now they're exploring their possibilities. Exploring the opportunities. They're looking into what's possible for themselves. And we need to view ourselves really as the guides for them. They're not just leads or numbers and names on paper. They're people that are really looking to move themselves forward. And they're looking for that inspiration to hopefully move them forward and connect with a school emotionally that this is the right school for me. So it's our job to really help them guide them through the process.
Gregg:
So I guess really, the first step in having a successful remote admissions process is to meditate or connect emotionally with the fact that people are talking to on the phone have hope and dreams and feelings and fears. And to open up and have some empathy and emotion around connecting with people in that regard, can go a long, long way. And so explorers. And now the other thing about explorers is by nature of the advances in the ease of working on the internet, they've become their own researchers, whereas pre-internet even into the 2000s, the admissions reps held the cauldron of wisdom and information, but now, explorers, they get two thirds of their information through their own efforts. And then the poor admissions rep often has to go in and unspool some of the misinformation that's not correct. Their gathering mode, what was historically the admissions process, they've self run the first two thirds. That's very interesting, isn't it?
Tom:
Absolutely. A lot of things changing these days and just a different paradigm and a different mindset now.
Gregg:
So the old system, it persists for many still schools still, but it's just time to go and let that slide away because we are now locked into a new paradigm. And so remote admissions as it relates to schools will be the new best practice. Even when the schools get back to having their ground operations. So now's the time to switch. So here we go, let's go and share some things here. So how to create an awesome remote admissions process is basically four broad systems. There's technology, there's structure, there's technique, and there's management and within that are tips, subsets. So let's start with technology.
Gregg:
So pieces need to be in place so that humans have a good shot at success. So what I mean by pieces are like the technology element, the ammo in the gun, the arrows in the quiver. And so from what we can see, these pieces are super cheap, and they're even free. So let's go through these one at a time. So laptop computers, that's an obvious one, you want to make sure there's certain things about laptops that are important.
Tom:
Certainly. I mean-
Gregg:
Go ahead.
Tom:
For most everybody, you're going to be using a laptop. For some, you may have had to actually purchase a webcam. Quality is going to be important and we want to be seen. So the key is you want to be seen and our programs are expensive for the most part and they're quality. And we're showing how much value we offer for that. So in order to show the perceived value and show the value of what we're doing, we don't want to come across the whole grainy with poor quality. So you want to have hopefully, a good webcam on your laptop or if you can afford it, and maybe down the road once the emergency pieces have passed, then we start to look at potentially buying some more high quality cameras to utilize as well.
Gregg:
So Tom, consumers psychologists call that visual dissonance. So if you're selling something that's high quality, but the person, the sales rep or whether it's a car or a house, is dressed like crap, it creates confusion in the minds of the consumer which creates a headwind in terms of them purchasing. So I guess to the second degree would be to have a really high quality mic.
Tom:
Yeah. Microphone's one of the keys I think, to the whole process. Using the mic that comes with your computer or your laptop, sometimes it's grainy, sometimes it's not great quality. Sometimes it forces you to put your head down and talk into the microphone on your laptop. The most important thing here really is, can they hear me clearly? Do I sound good on there? Spend a little extra here and get your team a high quality microphone. I mean, we don't need something that's a DJ. We're not here DJing and announcing the Yankees games. But we do want a quality microphone. So if you can get yourself a quality mic, little desktop stand. It doesn't have to be something gigantic that hooks on somewhere but at least something of quality that you can utilize to improve the sound quality.
Tom:
Again, a little spend here will go an awful long way. In the emergency situations we're using our laptops and our tablets. But as we evolve here, these are some of the core pieces of equipment I think that you really need to invest in and they'll pay dividends well down into the future.
Gregg:
So we have to knit it all together. So there's a screen share technology, or video conferencing technology, whatever you wish to call it. So go to meetings, Zoom, UberConference, Gruveo are some things that we've reviewed that are quite good and very inexpensive. So you're going to speak to those different things here. But I have one little thing I'd like to say. And that is because they're so cheap, and some of them are free, make sure you have two of them set up for your station. In case one blows up you can go to a plan B. So redundancy is what I'm preaching.
Tom:
Yeah, I think it's a fantastic idea. So yeah, I'm glad you mentioned that. Yeah, just having one tool for your web conferencing may not be enough. Again, we're not selling a $2 item here, we want to be able to do this in a quality methodology. And I know some of you, and I've been through several calls today, where we're just reviewing things with you guys. And I know there's technology glitches that you're running into. I know there's issues trying to get onto Gruveo or other sometimes even Zoom or other, even StartMeeting that we use around the office, sometimes you have trouble getting onto one. So having a backup, fantastic idea, strongly recommend it.
Tom:
I like Zoom, because Zoom has a lot of great controls, the quality is high, you can go 1080 on the video quality, it's got great controls for your screen, you can share easily. You can keep track of notes, you can record. You can record to the cloud, lots of other thing are available there. So Zoom's got some really great tools. It's a large wide platform that most people have access to. Gruveo, the difference there is going to be with Zoom or UberConference or StartMeeting or JoinMe or any of these other tools that you may investigate. They're great when you're on laptop, people can just click on the link usually put in a name and email and they're up and running. And may do a quick download, but nothing that you have to do.
Tom:
If you're contacting someone who's on a cell phone or a mobile phone, often they're going to be prompted to download an app in order for them to connect properly. Gruveo is the one exception. G-R-U-V-E-O. And Gruveo is really one of the exceptions out there that allows you to send out a link directly to someone on a phone, they can click on it and they can join using Safari or Chrome without having to download an app. It's got less tools, it's got less things that it can do. And it's got its own little challenges. But it's another option for you that if you're having difficulty, or you're running into people that are having difficulty downloading the app, or running that from Zoom or UberConference or one of those, then it's certainly a good opportunity for you. But definitely have a backup, as you mentioned, I think that's a great idea.
Gregg:
70% of the inquiries will be coming by way of cell phone is my guess. But Zoom's easy to get in by way of the phone as well. So it's very inexpensive folks. There's some interesting things developing as of late, like Zoom Trolling. So there's these big Zoom meetings and somebody will just get the thing and troll in and be obstructive, and we'll see how these crazy little trends evolve. But it's a crazy world out there. And so just keep an eye on these trends. We'll keep you apprised as well. Zoom Trolling. That's a bit crazy. Yeah.
Gregg:
So now we're going to add in a third piece, which is a, and this, folks on the call, we're going to take three minutes, we're going to talk about a software that we have that we can let you use for free actually, through this COVID time. We've decided to do. This is not a pitch, this is a literal best practice that no one else has. And so we're going to talk about it for three minutes, and then not talk about it again for the rest of this conference call. So we have Tom, you created it, Virtual Adviser Remote Admissions Pathways. So why don't you just explain this for a couple of minutes to the folks. Folks, if you want to see it later you can, you just have to let us know. Go ahead.
Tom:
Yeah, absolutely. What we wanted to do is recreate the experience that our explorer has when they come to campus. I mean, that's really the key. That's really what we're looking for when we're talking about remote admissions or virtual admissions here. What's that experience of arriving at the campus? What is your process? First we typically sit down with them and we go through a series of discovery questions. And we get to learn about our explorer, but they get to learn about themselves. So it's through the series of discovery questions, they really get to learn about themselves and why now is the right time to do this.
Tom:
Then typically we'll go into a presentation, we'll start to talk about all of the features and benefits and how that makes them feel and how it's going to help them maybe achieve those goals that they set for themselves. So in many cases on your school, some of you have a PowerPoint that you use. So now we have a PowerPoint piece. But then we get up and we take them on a tour through campus. And this is really where we feel like we really shine, taking people through our campus and they can get to meet staff and they get to meet students and they see all these great things that we have to offer. And we're so proud of our campus. And that's really where they start to make that emotional connection.
Tom:
Hopefully, they made an emotional connection with the rep. They start to feel how they match up with the things that you're presenting. And now they really get to love the school and the layout, then we're going to go back, finish up presenting on the program itself and the details about that program. We'll talk about the financial aid options that are available. And then lastly, we'll hopefully look to move them forward into the enrollment phase.
Tom:
Well, with our platform, we took all of that, put it into one platform that allows the rep to go through the discovery and gives you a great script foundation and pathway to ask those questions. Then in a visually appealing format, we can start sharing our screen. And we show them graphically which visuals we know are key, graphically show people what benefits our school offers, then we can take them through a tour and we can guide them and narrate them through our own tour and walk about campus and describe all of the things and relate how those things are lining up with what our explorer was looking for. And graphically, we can share our tuition, our programs, our financial aid information, and then hopefully, move them then into an enrollment phase at the end so that we don't lose a step during this process. And it's something that we can utilize forever on that first meeting, to get people started. And it's moving people through the funnel much quicker.
Gregg:
So what you're basically saying there to recap is, there are all these pieces that are like MARTEC supports for the admissions rep and what this does is it wraps it all up in a structure, a platform, so that no matter, if an admissions rep's having a good day, a bad day, a crummy day, a great day, they can consistently deliver a high quality, what we like to call discovery sessions or career planning sessions. And by way of the consistency, then it translates into signups and sets. And so it's basically taking the lumpiness out of the admissions process over the phone and making it consistently best practice which has a downstream positive effect.
Gregg:
So that is the summary of Admissions Adviser, our remote admissions version. We have a lot of schools on this now and they're coming back giving some tremendous feedback. So all right, so now the other part of it, as you visualize you're bringing in information, the PowerPoint decks you're bringing, you're having people answering questions to create a connection with the school and to qualify these prospective students, these explorers. The other piece of it, though, is we have the opportunity to have some video that we can work in. Short, little video pieces.
Gregg:
And I personally Tom, I'm an advocate of keeping it simple. And I think one can store all these videos on a school's YouTube channel with links, very stable. And you want to have these videos to be short. There's various scenarios you can bring up. Here's a student, here's an employer, here's a tour of the phlebotomy room or what have you. And the research that I've read is that the most credible and influential person within a school is the faculty member. And that's often overlooked. A short little, "Hi, I am Professor Dumbledore, I'm your phlebotomy instructor and I'm looking forward to having you on board." Something warm, connected.
Gregg:
So YouTube is what I'm advocating. And one can make it really perfect, but YouTube's robust and easy to download news. So when I was at University of Phoenix, we had Dr. Sperling and he always got a lot of pushback on the fact that on their online education at the time, they used Outlook Express. And if you think back to the days of Outlook and Outlook Express was very rudimentary and easy, they had all their curriculum, all their communication, everything building out of Outlook Express. And then finally he came out and said, "Look, everyone can use Outlook Express. Everyone can use it, and so everyone can easily access their education experience, even if we're missing some bells and whistles." So that's my argument around YouTube, is that's the analogy. So complexity is the enemy of profit.
Gregg:
We are amazed at the trouble that these higher education institutions have in creating smart phone videos. Buddy, you've got about five tips I think you want to share. A couple of them are pretty obvious to me but there's also some that are really good hacks here. So why don't you take the floor for a few minutes and share these tips you've landed on?
Tom:
Well, as you get started and you want to put together a tour, a couple of things to bear in mind. Number one, it does not have to be a professionally done. And right now, getting something up quickly that your team can be using that right now is important. And so there's two ways of doing this. The first way, you can do a simple walkthrough using your iPhone or using a phone. A couple of things to remember when you're doing this. Number one, make sure that you're holding your phone horizontal. We're not going to walk around holding our phone vertical like we're taking a selfie or something. We want to have it horizontal, that's the format that YouTube is going to want. And then also, for use on our platform as well, we can share it to our platform. But we want to take it horizontal number one.
Tom:
Number two, make sure you understand your phone settings. iPhones can do wonderful things. But making sure that the white balance and the color balance are set for automatic on there as you walk through. Something else to bear in mind, to make sure that as you're holding your phone and walking around that you try to limit your body movement. Again, we don't have stabilizers and all these great little things that professionals are going to use, we're creating an iPhone video. Keep your elbows in, limit your body movement, try not to hold your arms way out and walk and have it bouncing along the entire time. Just limit your body movement. And if you happen to get into a room or something that you're going to pan around, if you can lean against something, to do it, great. Anything that limits your body move, it's going to create a much more stable video out there. And if you mess up, it's totally okay because you can edit it on your iPhone and delete scenes that are on there. So it's easy for you to fix that.
Tom:
The next thing to remember is, and this sounds so simple, we don't need our finger to make an appearance in our video. So make sure you hold your camera correctly without sticking your finger over the camera or over the microphone or whatever you're doing because we don't need things popping into view that aren't supposed to be there.
Tom:
And then the next thing to do is remember you're pacing. So we don't want to run through the school, but we don't want to crawl through it, so that it takes 10 minutes just to walk down a hallway. So make sure your pacing is fairly brisk. And then when you come upon something that's a signature stop, a signature moment, a signature classroom, a signature piece of equipment, a job board of employers, Partners and Education Board, whatever it might be, take a few extra seconds and slow down to show that. If you're in a classroom and you're going to pan around, pan slowly.
Tom:
Then walking down hallways, if there's nothing in the hallway, that can be a little bit more brisk pace, then slow down, you approach something that's important, because if you're going to try to… The goal on these videos, and the reason that I really love to create a video that has no sound is because I want to narrate it. Now if you're in a rush and you're trying to get something up and you don't have our platform and you want to get something on YouTube, you can narrate it. If it's something that you can screen share, and you're going to use your YouTube video, and you can screen share that, fantastic. Or you can embed it in your PowerPoint or whatever you're doing. But do it silent, so that you can start and stop and start and stop. And you can narrate it and recreate the experience of somebody actually being there on campus.
Gregg:
So Tom, you also, there's a nice little, if our listeners want to create a little structure to this kind of a thing, you have a nice little app called animoto.com I believe it's called. And A-N-I-M-O-T-O. And explain that a little bit. That sounds very, a really nice little way to create some professionalism within this.
Tom:
So one of the things that we realize right now, is many of you can't even get into your school. So you're thinking, "Oh, how am I going to create a walkthrough video when I'm not even allowed to go into my school? It's closed down, we're all at home." But maybe you have a lot of pictures of your campus in your different areas that you can access and most of us can access those pictures. Well, Animoto, A-N-I-M-O-T-O.com as Gregg mentioned, Animoto will allow you to create, essentially a PowerPoint and turn it into a video.
Tom:
So now you can stitch together pictures of the reception area, or your lobby, or the classrooms, or a hallway, or a job board or labs and certain pieces of equipment and other great things, students, whatever. So you can actually create an actual video using still pictures. And Animoto will allow you to stitch those in easily and create a video out of that. So if you can't get in and create your own video, not a worry. If you've got a good handful of pictures that we can at least recreate somewhat of a tour, then you can go in and put that together and make it a lot easier for your team. So that's another great little tool that schools can be using.
Gregg:
You can pull the photos off the school's Facebook page, that kind of thing. I have a super quick story about fingers. You talked about fingers in camera lenses. About 12 years ago, we used to do a fair amount of training in marketing in particular. And we typically have 30 to 40 people from different schools on these live calls. And so we had gone live with these screen shares, 12 years ago, big deal back then. And it was the first time we've done it. There were 35 people on the call, and we were just getting ready. And I had the webcam on myself and Shane had a webcam on him. And I was just distracted and waiting to get on.
Gregg:
And then I started hearing, "Gregg," and I go, "Just a sec, just a sec." And they go, "Gregg, Gregg," and two or three of the people on the call and they go, "Okay, what? What?" "Gregg, you're picking your nose." And so what happened is, the screen share's new to me. I was not cognizant or thinking. And I was just picking my nose waiting to go on screen. How stupid is that Tom? My goodness.
Tom:
Those are all little things. I mean, we're going to talk about techniques in a few minutes here. Those are all the things that you have to be really cognizant of when you're doing these virtual interviews and tours. All kinds of stuff like that, that you're not aware of.
Gregg:
Don't be picking your nose, people, whatever you do. It's interesting, we're moving into some areas that one would normally not associate with an admissions meeting. But we're going to talk about structure and techniques. But structure is very interesting. Structure is a word that a freewheeling admissions rep might despise yet the interesting thing that we found regarding structure in all our business activities is that structure provides a person with the freedom to be intuitive because they can lock in things. They don't have to think about things that are repetitive in nature. And so they can be intuitive and compassionate, while having the structure in place will prevent the nasty visit from the regulators for the wrong reasons.
Gregg:
So you have about five cool little tools on how to create structure as it relates to discovery meetings for reps. A couple of these seem obvious to me, but there are some really cool tips here. So why don't you take just a few minutes and so you're saying Cathy's at 30 minutes, max. So-
Tom:
Absolutely.
Gregg:
… let's start there.
Tom:
Certainly. So we realized that when people come into our campus, we typically take 45 minutes to an hour for that whole discovery, career planning session, tour, all of that, to take place. However, when we do this virtually and online, we have to shorten it. People don't have the attention span to stick in there for a full hour typically of a video conference or a phone call, something like that. So we want to keep things running at a higher speed. So we are going to cut back on some of the discovery questions, we're going to cut back on a little bit of the presentation. We're going to shorten the tour to five minutes, six minutes, something like that. But we want to give them a good overview so that we can get where we're going in about 25 to 30 minutes. [crosstalk 00:29:34].
Gregg:
Yeah, Tom, let me just-
Tom:
Yeah, go ahead.
Gregg:
Tom, let me just butt in and ask a question, can we take some of those discovery questions and send those to the explorer in advance of the discovery meeting, like a tiny bit of homework to engage them and to just chew in, save some time and get them going on some homework prior to them jumping into the call?
Tom:
Potentially you can. And some schools do that. And we can use even our career readiness survey for some of that as well. The only concern I have sometimes when we do that is, now we're giving people homework.
Gregg:
Right.
Tom:
So we're making people… Now we're making them have to do some work. So the goal is to eliminate as much of that, in fact, not to get off the topic, but I'll take 30 seconds on this piece. One of the things that many of you are grabbing on to and then holding on to for dear life, despite several of us pleading with you to get rid of them is the dreaded lobby form. Nothing I hate more than the lobby form. When someone comes to your campus, the first thing you do is you hand them a crappy clipboard with a bad piece of paper and you make them fill something out like they're at the DMV or the doctor's office.
Gregg:
So by the nature of having this crisis forced upon us, we're being forced to look at the user experience, looking at everything outward in. It's not about us, it's about them. And so really, that's what you're speaking to here, is-
Tom:
So yeah, we're removing all of these little pieces when we do this virtually and get it down to 30 minutes, you're going to be more successful, you're going to enroll as many or more people than you ever enrolled before virtually. And you're going to realize, "Well, why didn't we do this years ago?" Have a structure, take your current existing process and distill it down to the core pieces that you need, the about us section. And having a good presentation or your PowerPoint, a virtual tour. Cut back on some of the questions that you may ask. And keep it moving at a good pace.
Tom:
And essentially what we're finding by use of this structure is we've taken a funnel that's typically a big V shape, and we've made it into a lot more of a square because people are coming in, you're getting ahold of more people because they're at home. And by the way, texting right now, I'm hearing is working phenomenally for everybody. Texting has become, not that it wasn't important, it's now the number one tool. Texting is getting ahold of people, but you're getting ahold of people because they're at home.
Tom:
Number two, you don't have to schedule an appointment for a day, two days, three days, four days from now when it's convenient for them. They can go into it right away on the phone. And even the metrics for appointment shows, instead of 80% being best practice, well now it's 100% because they're already on the appointment setting phone call and you can go right into the interview there. Despite a lower lead flow for some of you right now, the top of the funnel has opened wide open, and now you're getting people all the way through to the enrollment piece in 30 minutes, right from the phone call.
Gregg:
Tom, here's what's fascinating is opportunities that come out of crisis. So most schools, their admissions reps work office hours. We know through our research that most of the explorers wish to be contacted after dinner, Monday to Friday, Saturday and Sunday afternoon. Now with remote admissions, if done correctly, one can have meetings at 7:30 and 8:00 for half an hour at a time. And on Saturday at 3:00 in the afternoon. And the byproduct of that Tom, is that the connection with digital leads in particular skyrockets. And then as a result, of course, the flow through is much, the spigot is opened up, if you will, and then enrollments go way up. So this is indeed an opportunity.
Gregg:
And this is not just Gregg talking and Tom talking because we know there are many existing distance education schools that make a meal of this. Arizona State University is the recent hot school. And they're doing all their meetings after hours and on the weekends. Now one last thing, you said turning a funnel into a square. I had immediate flashback of Huey Lewis in the news, It's Hip To Be Square. So tell us.
Tom:
There you go.
Gregg:
Tell us about square. Just some more color on that.
Tom:
Yeah, well, instead of going from 100 visitors to getting ahold of 60% of them to setting appointments with 70% of them, and having 80% of them show up, where that was best practices around 34% from inquiry to show, appointment show, we're now… But most schools were probably hanging around the 25% inquiry to show rate. I'm seeing and hearing from people that it's upwards of 50 to 60% from inquiry to show now. So the funnel, at the top is just wide open, even though the lead flows drop, if you're able to do this virtually, you're never going to go back.
Tom:
You're going to realize that the first visit, boy, I can do this and I can get people moving right into the enrollment phase a whole lot quicker if I can do that in 30 minutes as opposed to two or three or four days, and hopefully they'll show up and they didn't have an excuse, or a babysitter didn't show or they got called away at work or something like that. Or you have inexperienced reps who can't set appointments within 24 hours and they're setting them a week out. All of that's gone. And that top of that funnel is a much wider opening down there now. So now really your closing skills virtually are going to come to test.
Gregg:
Last section here, we're punching on the clock a bit but we're still okay, is techniques. So we have these little hacks that you've landed on, that you've tested that work really well. They're just a little soft, little logical things, but it's amazing the number of people that just aren't cognizant, like my pick my nose story. That's an example, facial expressions you spoke about. Distractions. The ex wife, the kids, the dogs, the TV, the music, should be all gone. Keep going, what else have you landed on here?
Tom:
Absolutely. So working from home and working virtually, gives you a whole nother series of concerns and issues to deal with. So a couple of these, we'll just touch base on briefly. Number one, the background. Make sure you're set up in an area where the background is A, professional. I've seen some people on some of these webinars that I've done on Zoom and some other things here or with some other calls that we've done, and one person on one of the calls was laying on the floor in his bedroom, almost under his bed because it was the quietest place in the house. Well, that doesn't look good.
Tom:
The other thing that I saw is, lighting is important. Because facial expressions are super important. We don't want to see people picking their nose even better, but we want to see people's face because facial expressions is what creates that emotional attachment to us. So having good lighting in front of us is really important. So don't set up with your back to a window or your back to your back door or screen door, something like that. Because all they're going to see is a silhouette and you're going to look like you're in a witness protection program.
Tom:
Treat working from home and working remotely the same as you do at work. Get up in the morning at the same time you always did, take a shower, shave, do your hair, put your makeup on. Whatever it is that you need to do, and be ready to work by 8:00 or whatever the time that you normally work is. But get dressed. Don't be wearing pajamas. I know that we're only showing your upper half on video, but still, you'll be more professional. You'll come across more professional. People will understand your professionalism a lot more when you're dressed and you act professional. If you're wearing a tie, put the tie on. Okay? Now's not the time to start throwing on sweaters, sweatpants, shorts and a T-shirt or something. Dress professionally.
Gregg:
You know what? Sweat pants and sweaters, it sends a big message that I've given up and then you throw mustard stains on that sucker and it's just a little self expression that I'm pathetic.
Tom:
Yeah. And I'm [crosstalk 00:38:56].
Gregg:
At least that's what my wife, Cindy, says to me. Yeah. Okay. So these are little, I think part of it is consciousness. I think, for your admissions team, write down collectively as a group, the 20 reasons that your school help explorers, help students, help employees, help the community. And between the group of you, you can find 20 no problem. Usually an individual can only land on three to five. Write them out. Print them off, put them on your desk, and then every morning before you start your workday, as part of getting dressed properly is to review those 20 reasons and what it does is it creates a connection.
Gregg:
It creates a connection emotionally to the good work that you do and why you're valued and you're helping save lives and take people out of the basement, moldy basement suite and into something. It allows somebody to proudly get off the bus and walk through a working class neighborhood wearing scrubs, because they have a job in Allied Health or what have you. And so just having people reconnecting every day from their home in an isolated place themselves, reconnecting why. Why they're amazing and why the work the school does is amazing. And this is where, Tom, I think the leaders can relentlessly support. And you've been big on this, relentlessly supporting through interaction, through words, through this kind of thing I just came up with. Speak to this, and then we're going to, I think, wind it down.
Tom:
Certainly. One of the challenges for many schools now is, well, all of my people are working from home. They're not under me anymore. I can't see them, I don't know what they're doing exactly. I can look in the CRM, if you even have one, and I can see what activities they're undertaking. But I can't hear how they're talking and how they're presenting. So a couple of quick things from a management standpoint on people's.
Tom:
Number one, meet with your team every morning. I would strongly recommend a 15 minute morning. You should be doing this anyway at your campus and very few schools do this. But every morning for 15 minutes, you should spend two or three, four minutes on just numbers, success stories, some of the things Gregg, that you just mentioned on some motivational pieces. And then role play and practice for 10 minutes. A, it's a good check-in, it makes sure your team is on their A game. And it also makes sure that you can see them, are they dressed? Is their setup professional? So it gives you a chance to see how they look for the day. But it also gets people in the working mindset and it jars them a little bit out of the, Oh, I'm at home. I'm afraid. I'm worried about my grandmother, I'm worried about my finances. I'm worried about this or that." What have you. That 15 minute huddle, changes mindsets early in the day, gets people rolling on what they do. But practice and role play especially the virtual pieces, but always be practicing and role playing.
Tom:
And one more thing I'm going to jump in, and then I'll finish up is on the techniques piece, and this is something that you practice and role play in these meetings. We talked about how important facial expressions are, but let me tell you, the number one most important thing that you need to do when you're going to be on camera is you need to look at the camera. Many of you are looking sideways at a screen, if you have multiple screens, you're looking at your notes, you're looking at something else, you're looking at your keyboard. You need to practice looking at the webcam, because the eyes are the windows to the soul and if you're not looking at the webcam, the person on the other end is thinking, "They're not interested in me. They're off doing something else. I'm just a bother to them." So [crosstalk 00:43:08].
Gregg:
That's a tremendous idea. Tom, a little hack would be just go to the Dollar Store, get one of those little happy face stickers for 10 cents, and just stick it next to the webcam-
Tom:
Yep.
Gregg:
… as a little visual reminder, that that's where the eyes of the explorer are as well.
Tom:
Absolutely. Great tip.
Gregg:
Great tip. And then we were just gently joking around about people are not as animated as they think they are. And I was saying, yeah, but you don't want to advise people to look like some freaky clown or whatever, or be over the top like somebody who had 20 cups of coffee. But your point is valid, is that people tend to look a little more stoic and grumpier than they actually feel.
Tom:
And my parting words before questions to you is, use this as an opportunity to reinvent your school, reinvigorate your school. This is not a time to contract, this is a time to expand. This is a time to thrive. And you can certainly thrive in this environment, as tough as it may be, and the schools that really do a great job creating a fantastic virtual admissions pathway, a way to enroll people and keep your pipeline moving, those schools are going to come out stronger than ever, and you're going to really reinvent a lot of things that you've done that are going to serve you well for the next several years.
Gregg:
Yeah. Consider things like blended learning, which most people really love, where they can spend most of their time learning remotely and then come in for a day or a weekend or what have you. The benefit of that, of course, is that you can go to a much wider geo-target. If you're a ground school and you're used to a 30 minute geo-target, you can have a two hour geo-target, and boy, open up the market to small towns that are around the edges of where your campus lies. There's so much potential in just taking advantage of what on the surface seems like a ratty deal, in fact, it's a blessing in disguise. So Tom, I think we should pack it in. We'll be talking folks, with you again and if you have any clarifiers contact us and we're generous with our time, we're happy to help you out. We're in this together everybody, so we're going to help you out. Take care everybody. All the best.
Tom:
Stay safe.
Announcement:
This podcast is brought to you by Enrollment Resources. Innovations in enrollment management. Learn more at enrollmentresources.com.