Podcast Transcript: Tips for Increasing Your Enrollment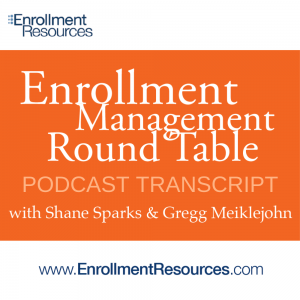 This is a transcript of the latest episode of the Enrollment Management Round Table podcast exploring Tips for Increasing Your Enrollment. It has been edited for clarity.
Gregg Meiklejohn:
So Tash, today, we're going to go through just a number of tips that whoever is listening or watching on this podcast can take away immediately and use within their school without the help of a guru. They could just get it done. And the by-product will be that they should see some incremental lifts in enrollment revenue and perhaps some incremental opportunities to cut costs. That's a good intention. Don't you think?
Tash Uray:
Great intention. One of my favorites.
Gregg Meiklejohn:
Okay. Let's proceed without delay. Tip number one, take away the voicemail system for reps. So what this means is a perspective student will phone in. Receptionist will say, "Oh, I'm sorry. Betty is not available. Let me send you to her voicemail." Now the problem with that is that 80% of the time, Betty can't get back to the prospective student or vice versa, and it quickly just rots. It's like having some fruit out for two weeks. It just atrophies and rots. The best practice is to take the voicemail system away from the reps and make it the receptionist's responsibility to book a time for the rep to call back. What do you think of that?
Tash Uray:
I love that. How many of us, when we are on the admissions side of the house, get frustrated with chasing and chasing and so much time spent trying to create the contact. We've got the contact live. They're reaching out to us. They're a motivated caller. Let's close for the appointment right there as upstream as possible.
Gregg Meiklejohn:
Makes total sense. And here's the math on it. If somebody has two of these voicemail jail things going on in a given day, that's the equivalent of 40 of those in a month. And if we can take 35 of those and capture conversations, synchronous conversations, we know by our broad math that 10 to 15% of those will turn into students. Now that's crazy. That's three or four students a month just by making this silly little change.
Tash Uray:
Nice.
Gregg Meiklejohn:
I think we could just say to people do this one tip, don't watch the rest of the podcast because this will get you three extra students a month per rep. And if I'm wrong, it's not hurt you in any way, but I do believe that it will be right. Okay, let's go to two. Now we know that in many parts of the higher education field within the regulatory landscape, students or reps, DOAs are no longer permitted to get commissions or bonuses on success. How do we go and motivate people? Well, I say we use a point system, a point system for activity that tends to lead to a result. So one point for an email, one point for a phone message, 10 points to set up a meaningful conversation, 20 points to have an actual meaningful conversation. Maybe your goal is 60 points a day as a rep. So Tash, it's a way to help reps weight their activity against what is actually going to create results. You're an expert on this. What do you think?
Tash Uray:
I think it's an excellent idea. And one of the big boxes that I was with most recently will go unmentioned, but that is one of the practices that they do. And as most of you know, you're going to have a number of your admissions folks and they are competitive and they don't want to be on the bottom of the list. And they like to see how are they performing relative to others. And if you can help them break their activity down and show them and they can keep score and they like the score and it drives even more activity, all the better.
Gregg Meiklejohn:
What's cool about this is that if somebody has one appointment on the calendar worth 20 points, oh, I've got to get to 60 points, so they make 40 outbound emails and phone messages combined. We know that like in baseball, there's the batting average. And we know that out of those 40, it'll turn into something good. Velocify, they did some seminal research talking about the best connection times for admissions people. And it's 7:00 to 8:00 PM on weekdays and weekends 12:00 to 5:00. And people get tremendous connection and they're happy to talk to admissions reps. And so my question to you is why do schools not hire admissions reps or appointment centers or what have you with an eye to really working within those timeframes? Call it 7:00 to 8:30 PM. 12:00 to 5:00 on the weekends.
Tash Uray:
Yeah, you're absolutely right. In some schools, well, I only offer programs during the day. So if my student's going to be coming during the day, then that's when my staff's available. And I think what's huge about that is it's not just our prospective students, the buying committees as well, and when you're going to be able to get a hold of both the prospective student and the buying committee. So, things like that are huge, just when are the best times. Outreach to actual contact.
Gregg Meiklejohn:
Cynics responded to the research about, oh, they'll be interrupting people but then Velocify tried it out, their secondary research that the average call time was 35 minutes. To your point, the buying committee, Mom got in there or the boyfriend or the husband or the wife or people could kick back, ask questions. Conversion rates go way up.
Tash Uray:
One of the best reps I've ever seen in all my years was a woman in her 60s. And she did one thing different. Now, first you did have that grandmotherly style to her. So she could pull your ear verbally. And she was good at those kinds of things, but [inaudible 00:06:37] she did one thing different. She used-
Gregg Meiklejohn:
What was that?
Tash Uray:
… Sunday night dinner to set up her Monday and Tuesday and she'd come into the week loaded, so loaded. And she had more activity than everybody. She never had the most phone activity. It wasn't pure outreach. She had the most interview activity because she used to use Sunday dinner to load. She said, "Well, I'll put a couple hours in there. I'll take them off elsewhere." And that was her one competitive advantage.
Gregg Meiklejohn:
Yeah. There you go. Okay. Tip four. Using a reload question. So the scenario is somebody's on the phone with a prospective student and they're asked, they say, "Would you like to have some additional information?" And most say yes, maybe a third say no. Well, those are lost because once they've left, it's that phone tag thing and it's [inaudible 00:07:38]. You say, "Yeah, I'm pleased to get you some information. I'll mail something to you. I'll email you a PDF. It's going to take you a couple of days to digest it. And I'm pretty sure you're going to have followup questions. Why don't we set up a short meeting now? And if you're not interested, our phone time will be 30 seconds." So what happens is you get the second bite of the apple as an admissions rep and out of if that happens 100 times in a month and you can get through to 80 of those people, then eight more students.
Tash Uray:
Yeah. Love that, Gregg. Just love that. Why are you going to ask a question that's inviting the no? Don't invite the no. Schedule it out. Fine, you're going to have some information. Most folks are very interested in that. Yeah. I think that's a absolutely great suggestion and very powerful.
Gregg Meiklejohn:
Yeah. So tip five. So here's an interesting thought. At Enrollment Resources, we'll bring elements from outside education to test to see if it will work in the education field. And we've had a lot of success in this area. Here's one. So at first point of contact, when a digital lead comes in and the reps will reach out and phone and they'll work on a sequence and they'll leave a couple of messages. Now, let's imagine that the message that an admissions rep or an appointment setter is leaving is like a radio ad because it is. It's a radio ad that's 15 or 20 seconds long, but instead of an audience of 1,000, it's got an audience of one, maybe two people.
Gregg Meiklejohn:
If that's the case, let's use the best practices from radio split testing radio media, and split test our phone messages. What we'll find is through trial and error, five or 10% more people will return the calls than otherwise would before. Let's say it's 5%. Somebody makes 30 outbound calls, that's 600 in a month we'll call it and 5% of that is 30 more meaningful conversations a month, which works out to three or four additional students. That's crazy.
Tash Uray:
Yeah. Love it, love it. And how many of us, we're just hungry to break up our routine. And sometimes we'll get a little bit stir crazy on some of the wrote repetitive activity and voice inflect away and punch the right points and use the right language.
Gregg Meiklejohn:
Yeah, exactly. So you have your what's called your control. That's your first message you leave. And then you say, okay, I've got an 8% return. Now I'm going to do the same phone message with punchy voice inflection as an example. It goes up to 9%. That becomes the new control. Then you'll try humor and then you'll try this and try that. So if any guru tries to tell you what it is, the actual winning formula, I suggest you run away because the externals, Tash, as you know, are constantly changing. And the only way to get to your best practice is by split testing. Split testing is the key to success in your entire enrollment management. You've had experience with that.
Tash Uray:
Yeah. I love it. I think there's such a massive difference between feeling facts, and fact facts. And so many of us are making decisions based on feeling facts. And I had an old mentor of mine let me, he was a pilot and he would take me up flying, and he had me pull my shirt up over my head and he let me fly the plane. And I was killing it. I was doing a great job until I pulled my shirt down. I had us at the beginnings of a left negative spiral dive that would have destroyed us. But why didn't I know that? Because I was basing it on a feeling fact, not on data and not on my dashboards.
Gregg Meiklejohn:
Well, I'm glad you did that. Otherwise, I'd have to have a different podcast partner today. Here's another tip that historically, schools, service centers and community colleges, they just go in and do the minimum. Hey, have a meeting with so-and-so, here's an info session, go to this link and just shovel people through where what we found through our research led by our colleague, Tom King, is that a 25 minute meeting on the phone where hopes and dreams, dreamscaping questions are asked, actually increases the phone call to accepted application ratio plus minus by around 70% lift, which is crazy. But it's really what people want. And my conjecture is that today's explorers do half of their sales process themselves. They do half of it researching, talking to friends, talking to referrals on Yelp and Google Plus, and the like. They come in largely educated.
Tash Uray:
Yeah, absolutely.
Gregg Meiklejohn:
Research.
Tash Uray:
One of those sacred cows, I was with a trade school and the limiting belief was that, oh, you absolutely must come in for the tour. And it was very old school and I was very old school. Okay. Get them in here today or today, if not today or today, how about tomorrow? Basic alternative choice close on the date and time to come in and see them and because of COVID, we were forced to do them virtual like that. And we saw a spike in enrollment, a spike in interview activity. In hindsight, yeah, they were more accessible, but it was counterintuitive. And didn't think that would actually contribute, but it did. It increased enrollment.
Gregg Meiklejohn:
Here's another counterintuitive thing I'm going to share. It's very hippy. So those school leaders that have backgrounds in operations and finance, please forgive me, please forgive me, but I'm going to share something that will I believe get you a 10% lift in enrollment revenue within a month. So, Tash, I'm going to share the tip now. You ready?
Tash Uray:
Ready. I'm ready. I'm hungry.
Gregg Meiklejohn:
Bring your people together and ask them ways the school can help the student help the community help the employer base. And what you'll find when you do that exercise, everybody, is that people come up about three to five ideas. So then what you want to do, step two is take everyone's ideas and make a master list of about 20 or so reasons the school can help out in those ways. Then step three is you get that printed out and you just tape it to the corner of the desk of all the employees. And step four is you ask them to read that list every morning. 10, 20 seconds and absorb it into your psyche. And what will happen is through repetition, all those 20 ways to help are going to integrate into the lexicon and the communication and the filters for listening.
Gregg Meiklejohn:
Think of it like arrows in a quiver. If you have three arrows in your quiver, that's fine. But if you have 20, then that gives you an advantage. And so it's very unconscious. It's a repetitive affinity to core concepts. And what will happen is the admissions reps, the financial aid people, the marketing people, everybody will start to connect with these values, 10% lift. So 10% increase in enrollment revenue within a month. And if I'm wrong, it won't be bad because nothing bad will happen except you'll improve morale within your organization. Your employee churn rate will drop. So that's the worst that can happen.
Tash Uray:
Well, I love that. Can't say I ever executed on that, but I love the concept. Makes a lot of sense.
Gregg Meiklejohn:
Not many people have, Tash. And that's because many analytic drivers who lead schools are not wearing Birkenstock sandals. Now this is one that most everybody should know about it. And that is to use a speed to lead type of a technology. Sammy James' speed to lead comes to mind. It's really good. So basically as my partner, Shane Sparks says, internet leads have the life of a fruit fly. And if you don't go in and grab those people who have just filled out a form, you're hooped. Conversion rates plummet by about three quarters. It's just quite something. And so the best practice, Tash, is when an internet lead comes in, the school wants to treat it like a phone lead that's on hold as a psychological approach to internet leads. Is that crazy?
Tash Uray:
You're so spot on. We all know the expressions, first in the door, first to score. First to contact, first to contract. And how frustrating is it when you're calling a lead and now it started to age and they're not in that same high resolve, I'm going to make life change. They're putting the groceries away, their kid's tugging on them and they're upset and something else is going on. But if you have great speed to contact, you can reach them right when they're still pumped and excited and open-minded and hungry for the information that you have to share. So, yeah, massive difference.
Gregg Meiklejohn:
And in all the mystery shops we've done, I don't believe we've yet come across somebody who was annoyed because they got called right away, this actually pleasant surprise. And then you just have to say, "Hey, have I caught you at a bad time?" And they, "Oh, no, no, no," because they're freshly interested by filling out a lead form. Here's a little guerrilla marketing tip, out there back in the day, the most effective ads were done in the classified section of the newspaper. And it was just, hey, call us now to get your free information kit. And then that would get sent. And the red [crosstalk 00:19:12]
Tash Uray:
I loved those leads, I loved them.
Gregg Meiklejohn:
Yeah. But of course with the digital marketing progress, of course the classified section where they were converted to these digital directories and what comes to mind is Craigslist, Kijiji, Facebook Marketplace. There's several of them that are out there. And they're very well-perused. And within that, there's a whole area of jobs and training. And so here's the tip. Find the person who has the lowest hourly wage. You set them up to just put in to those various listings directories when your start dates are. Hey, want to be a hairstylist? Our start date is July 18th. Call now. We'll get you your free information kit. It's a duplication of that classic classified section ad. And they die off depending on the population density, one to five days. And then that person's job is to just keep topping it up. So it might cost you $100 a week in labor to have full and complete presence in all these directories that really largely don't cost you anything.
Tash Uray:
Love it. Love it.
Gregg Meiklejohn:
Oh yeah. I love free. So from other industries, there is a basic saying in terms of direct response that long out-pulls short, and of course, people are always saying, oh, you can't have a four-page sales letter online and that, but I would challenge people to test it. And they might be surprised that the number of phone calls they get from a long letter out-pull a little one or two paragraph thing. The problem is that a long letter that's poorly crafted and not informative and helpful is not going to pull because it's just junk, but you create a good quality long letter and then run it online and then run it sending out in snail mail to people who say come in for a visit. And have it from a lead faculty or a CEO or a Dean. And you might be surprised at the long out-pulls short. Send them to your so-called stale leads. As we know, Tash, stale leads are not stale. They're just prospective students that have been poorly dealt with within admissions.
Gregg Meiklejohn:
And plus it brings us to our next tip is where are these people who are communicating interest on the buying journey, so that's the next tip. So the buying journey, I would argue for education is a year and a half, the same as buying a car from when the thought pops into your head to when you're sitting in class. The problem that marketing people have is when they go and they do their persuasion work on their website or on Google Ads, Manage AdWords, or what have you, they're not taking the time to discern whether these people are at the beginning of their buying journey, the middle or the end. And the admissions people without understanding that, they have to figure that out themselves, or usually what happens is they don't do it at all. They just assume everything's a lead when in fact it's really about somebody who's just researching because they're thinking about going to school. Those people are dealt with very differently than somebody who's, yep, I'm ready to go. So discernment as to where people are in their buying journey is absolutely crucial. Would you not agree?
Tash Uray:
I completely agree with that, Gregg. And I think what we all need to keep in mind is the lead is a life and life may have some willingness and ableness and urgency and awareness in the moment. But a lot of times that life doesn't or a lot of times that life has too much going on in their familiar and their surroundings. And they're blind and they're stuck for a while and through our communications and our persistence and our asking the right questions and sharing the right information, we help move them out of that spot and we open their eyes. And now they're ready.
Gregg Meiklejohn:
The greatest [crosstalk 00:24:08].
Tash Uray:
Short-term.
Gregg Meiklejohn:
Yeah.
Tash Uray:
I'm sorry.
Gregg Meiklejohn:
To your point though, the greatest gift that a school can give at that first point of contact is that of a person who can create clarity for that explorer, if they're early on in their cycle. I think that's what you're saying, right?
Tash Uray:
Absolutely. Yes, absolutely. Absolutely. We do help. People come to us and they're a little lost, and they're fuzzy and it's hazy and we help just with self-awareness and career pathing that they're most congruent with, information on the career fields themselves, the employment outlooks, and longterm big picture of it. And then how to connect the dots, which is typically the programs that we offer and that they're actually able to, and that there's actually means out there to assist them with connecting the dots. And a lot of that is just a lot of new information and just multiple different new awarenesses for that prospective student.
Gregg Meiklejohn:
Cool. Hey, everybody watching this podcast, that little conversation alone will help you tremendously. You can hang up now if you want but we have a few more tips to share. Okay. So the next one is something that real savvy schools do is a program is like an airplane or a hotel room for the day. Whatever's empty is empty. And so when there's this ego thing that happens with a lot of schools, I'm not going to go and work with people who have poor credit or who are disadvantaged. What I say is say there's 20 seats in an intake and say there's 12 is the breakeven point. Then let's say, once you hit 12, doing that in cost-effective ways, then the next date, accept the people that have less than savory credit scores.
Gregg Meiklejohn:
Let's say something is $20,000. And you sign up eight people with less than savory credit scores and say 40% of them bail on you. You still have $12,000. $12,000 of eight is better than zero in my books. The other [inaudible 00:26:33] to that is when you hit your breakeven point, use real expensive marketing like radio. And if you can go and acquire a student for three or $4,000 or $5,000 against a $20,000 revenue input, who cares because you've already hit your breakeven point.
Tash Uray:
Yeah. And the financials in that make a lot of sense. I think one of the challenges with taking on students is we're so scared about our cohort default rates. We're so scared about our bad debt percentages. And we miss out on opportunities and we miss out on improving students' lives because they're higher risk on those couple of indicators, but some of these folks have the will, have the resolve and they're at a different point in their journey. And so their credit score or their credit risk maybe is no longer what it used to be.
Gregg Meiklejohn:
And so maybe a crazy idea is to have a school negotiate with their accrediting bodies around this topic and land on an agreed strategy to help people who are disadvantaged. Just a crazy thought. Okay, here's an interesting piece that's going to be important at the back end of this recession, any recession. And that is career services. We know that the punishing part of a career-oriented school is when you're coming out of the back of a recession, if it's not crisp, if the recession is U-shaped or L-shaped, there'll be people with 20 years experience with a mortgage to protect competing for entry-level jobs. And then of course the placement rates become really difficult.
Gregg Meiklejohn:
And then of course we know of some schools who have actually gone under in the last major recession for that very reason. We don't want that. So what we want to do is take those career services reps and turn them into business development specialists, people who are professional B2B marketers and go and work hard to make sure the school is seen in a favorable light with employers. One would argue when a prospect becomes a student, they become part of the product. And if the employers love the graduates, that really helps the brand of the school, specifically programs. Is that crazy?
Tash Uray:
Well, so a few things come to mind when we say that, and in the short-run, our educational offering, our service is the product, and that student is our customer, but in the long-run, the hiring community is our customer. And that student of ours, that graduate is our product. And that's what's going to be representing us out there in the workforce and creating good will and spreading the word. And we've got a lot of strong alumni out there and are we leveraging that? And are we taking advantage of that? And our career services departments and even our program leaders with their program advisory committees, are we getting the success of some of our alumni and how well they're doing? Are we leading with that? And is that front of mind on our prospective employers and even our advisory committee members?
Gregg Meiklejohn:
Exactly.
Tash Uray:
Often, it's not.
Gregg Meiklejohn:
Here's the next tip. Lot of schools, once they have an accepted application, they let them atrophy and drift. And we know that people who have an accepted application that don't start that metric, we know that 24% of those people have been scooped by another school. And so what we want to do is service and nurture those people between the time they have an accepted application and the time they stop. Many baccalaureate programs at universities, they have an application to start rate miserable like 25%. I know there's very progressive school systems like University of Phoenix. They will have those people attend a three week online program on how to succeed going to school. That's just a little tip is take the best from direct response marketing, drop it into that metric field, treat them like they would a cherished client that they are.
Gregg Meiklejohn:
One thing that's important is that the first month of school is when people tend to drop out. And yet most schools, they lack the self-awareness to do emotional health checks with new students a week into school. Those smiling people say everything's fine, don't show up to school one day. Those are the people you can help by simply reaching out and nurturing them. What are your thoughts?
Tash Uray:
Absolutely. It is the best practice. Are your admissions reps talking to each one of those new student starts and is the true handoff a little bit later? Not in the first week or two of school, but a little bit later.
Gregg Meiklejohn:
Yeah. Are people feeling bullied? Are they feeling neglected? Has their car stopped working so they can't make it to school? Man, these are things, it's so easy to just check in. And yet it's amazing the number of schools that will not. Okay. What else do we have here for tips? We have geo-fencing. Okay. Now we're switching into marketing. Google and Facebook and others have the ability to what's called geotarget. So you can have a campus. We have clients like I can think of one good client of ours that's in a suburban neighborhood. And then in our marketing, we geofence within a five mile radius of all the subway stops that lead to the school. And that's a way to widen your geotarget and have bigger populations to market to, by putting little fences around places that will get the students to the school quicker.
Gregg Meiklejohn:
Another one that is a crazy idea is we know that when people are going to classic university, 55, 60% of them end up quitting and some college is really not an ideal thing on a resume. So you geotarget around that general business learning area auditorium. And they're all looking at their phones and ads could come up and say are you sick and tired of being in a huge auditorium? Become a hairdresser, a cosmetologist. Click here. And that's a way to take those people who are really disillusioned about theoretical education and bring them into something practical. So I really like that one myself. I'm going to have you speak to this. Most people, most schools are afraid to properly qualify a prospective student. You could talk about the admissions and then I'll add in briefly about the marketing. Okay.
Tash Uray:
Sure.
Gregg Meiklejohn:
Go ahead.
Tash Uray:
Well, if in onboarding any particular student, there's 10 pain points, you're absolutely better taking them upstream than later on and discover them after the fact. So ask the hard questions. It's not just about what they're interested in. That's the easy part. The career fields that are most congruent. That's the easy part. What's going on? What's their family of origin? What's their circle of [inaudible 00:34:42] Who are their dream champions? Who are their dream stealers? Uncover that kind of information because that's really going to impact them. Who's modeling success for them?
Gregg Meiklejohn:
And don't be afraid to walk away.
Tash Uray:
Err on the side of being open and direct.
Gregg Meiklejohn:
That's because if people are poorly qualified, the admissions team are just shoveling the problem, if you will, into the arms of the faculty, which adversely affects graduation rates and creates cancerous toxic environments within the classroom.
Tash Uray:
It clogs the financial aid arteries.
Gregg Meiklejohn:
On the marketing side, having a lot of these ad agencies are they get what are called insertion orders. I need to get 100 leads to ABC school. And they will say whatever they need to say in their copywriting to get these people and a lot of them are just really not qualified. A tactic with indirect responses to qualify people and the copywriting. For instance, if you want to be a cosmetologist, but you suffer from back problems, then it's really important in the marketing to say you absolutely have to stand eight hours a day to be successful in this field. And I remember I gave a talk to a big massage conference and there was a report that came out that said that the massage therapists would work a career of an average of seven years at the time.
Gregg Meiklejohn:
And I said to people, "Do you include that in your marketing? Do you include that in your admissions efforts?" And they all started getting angry with me. There were a couple of hundred people in the room and they're just giving me heck. And I said, "Well, why do you want to lie? Tell the truth." And they'll say, "Oh." So I got them breaking out in groups, debating this philosophical divide. And they came back and basically said, "Oh, it's okay to lie in your marketing, but you can't lie on your admissions." And I'm not hacking on the massage people, but that happens a lot with all kinds of schools, including not-for-profits. So if you're a not-for-profit watching this podcast and you're feeling smug, don't feel smug. Anyway, just a little thing to just ponder. Community colleges and not-for-profit schools do a tremendous job of running continuing education.
Gregg Meiklejohn:
And now with the perfection of Zoom meetings, career schools can do the same thing. You have a nice continuing ed happening every quarter, and you could bring in vendors who have new technology, or, hey, here's the new hairstyles from Paris or a whole number of things. And it allows the alumni from the schools to re-bond. It allows those who are paying student loans to stay connected and a higher likelihood of the loans being paid down. It's an environment for alumni to bring a friend onto a Zoom call and create referrals for new students. And what's cool about this everybody on the call is that it takes very little effort or money to put something like this together.
Tash Uray:
And sadly, a lot of times we're waiting until we have 90 10 issues before we'll start thinking about nichey add-on programs for our graduates that help them grow their careers even further. So love it.
Gregg Meiklejohn:
Yeah. And what's interesting about that is, well, you go and you start working with people over time. Repetition creates familiarity and familiarity creates trust. And so it just extends that core promise of say a 10 month cosmetology program into a five year relationship for very little extra effort. Yeah. This just works in so many ways. Folks, continuing ed program, every quarter, Zoom meeting. The one last thing. Invite the alumni of your competitors, but charge them $100. So your alumni know, hey, I'm getting this for free and so-and-so from other schools are paying. So it creates an actual advantage that could be communicated in your marketing. And that takes us now to the law of sacrifice. So I'll just explain this by example, Tash. Los Angeles, the biggest big industry is movies, radio, music.
Gregg Meiklejohn:
Okay. And so you have a vanilla IT program and you add in from career services, a participation only course on the jargon and the politics of the music, movie and radio industry. And people go through that, and they get a certificate of completion. Now here's where it gets interesting is the IT grad goes to Miramar Studios and they add that line item in their CV. And guess what happens? They get shortlisted because they have industry-specific knowledge that the vanilla IT people do not. That's a crazy idea.
Tash Uray:
Yeah, absolutely.
Gregg Meiklejohn:
Works like a torch. Testimonial walls. People come to a school the first time and they're cynical, they're afraid and what's easily done is you can put up 15 or so truthful testimonials from grads and employers. And you take away the magazines, the video, the TVs, and you invite them. Hey, before your meeting with our rep, have a look at some of these. What happens is after they read five or 10 of these, they go, okay, I'm in the right place. And it's then they go in and into a meeting. And instead of being cynical and trying to figure out if this is bad or good for me, they come in with an open heart because they've been told by a dozen other people, hey, you're in the right place. Another little tactic is you have in the front, here are 50 companies where our grads have been working.
Gregg Meiklejohn:
Now, you can't promise anyone a job, obviously, but you can show people where other grads are working. That's perfectly fine. In marketing, that's known as brand riding where small companies will ride a giant brand. For instance, Enrollment Resources was the first marketing company in the system to be designated with the Better Business Bureau for good designation, triple bottom line certification.
Tash Uray:
Nice.
Gregg Meiklejohn:
So we're one of 400,000 Better Business Bureau members and the only marketing company and the first traunch of people where we have the BBB for good certification. That's called brand riding. Thanks, BBB. Thanks, Better Business Bureau. So I would say that's a very good tip and it costs you some Walmart frames to put some testimonials in. The last thing I'd like to just talk to you about, Tash, is dedicating to staying in the question. And the question is this, how do I have my school become a world-class offering much like Tesla is for electric cars or Apple is to smart phones? How can I stay in this question? And so I think, and Shane thinks, and I believe you do too, the aspiration of a good leader is to constantly stay in that uncomfortable question to have it churning at your guts all the time.
Gregg Meiklejohn:
And the question, how do we become world-class? And start looking at all the different aspects of the school's operations, the marketing, the admissions, and in making a movement towards world-class, don't have to advertise so much. The admissions people can truly become counselors. There are employers lining up to hire the graduates. The students want to come to school. There's a lineup for students wanting to get into your school. And that comes through the incremental improvements in all aspects of an operation. Now, I don't know, is that too fluffy? What do you think, Tash?
Tash Uray:
No. You're so spot on, Gregg, and I just think we're in the business of helping people grow and develop. Well, what are we doing to grow and develop ourselves and our organizations and our workflows and our processes and our technologies? And if we're not doing anything, then we're hypocritical. So yeah, I think that's great.
Gregg Meiklejohn:
We are but we're not at Enrollment Resources. And folks, we have these world-class conversion rate optimization tools that can be used all through the enrollment management funnel or cycle. And those are available to you right now, plus a ton of ideas that can be used in other parts of the school. So give us a call and we'll show you some of that stuff without any pressure to buy anything or what have you. But I think you'll find it intriguing. Tash, thanks again for coming on this podcast and Tash and I will see you guys either at a conference or on the phone or in front of another podcast. So take care everybody.
Tash Uray:
Thank you, Gregg. Bye, everybody.