We just received this incredible client testimonial and had to share. Would you say this about your current marketing partners? If not, we should talk.
[av_promobox button='no' label='Click me' link='manually,http://' link_target=" color='theme-color' custom_bg='#444444′ custom_font='#ffffff' size='large' label_display=" icon_select='no' icon='ue800′ font='entypo-fontello' box_color=" box_custom_font='#ffffff' box_custom_bg='#444444′ box_custom_border='#333333′ av_uid='av-271xkh' admin_preview_bg="]
Martin, Tammy and ER team,
I just don't know where to begin to tell you how amazing working with you and the entire team at Enrollment Resources has been – every single thing you have done has had a dramatic impact on our overall business outcomes this past year.
We went from page 5 on Google and virtually no organic traffic and poor web conversions from the little traffic we had – to substantial month over month lead growth with the new website you developed for us. The remarkable part about that is that we cut our advertising budget by millions of dollars (yes, millions) and we were able to maintain our lead flow and grow as much as 20% month over month once you took over. We recently experienced a 35% growth in enrollments in our last start over the same period last year. Lead flow from our website and Google Ad campaigns are at an all-time high and lead quality has dramatically improved.
That is just the beginning – you re-created our entire website (with incredible conversation rates), added the Career Readiness Quiz, relaunched our Google Ads platform (from scratch!) and all of our landing pages as well. You developed a brand new remarketing strategy and created our YouTube channel and Video advertising platform – and seamlessly integrated all of these solutions into our CRM to enable our admission team to connect with every lead immediately.
We are now launching a new Admission Pathway to help improve our enrollment metrics and measure performance at levels we never knew were possible. This has been the most incredible suite of solutions I could ever imagine coming from a single vendor – all interconnected to drive amazing results.
What you have provided us has allowed us to turn off millions in radio and television advertising and convert to a purely digital marketing model – and improve our overall business outcomes. This new digital platform has allowed us to generate higher-quality, deeper funnel leads, right-size our admissions staff and grow in an industry that seems to be contracting all around us. You executed this flawlessly… it was the equivalent of changing out the engine of a Nascar race car while the car was still in the race – all without losing our position.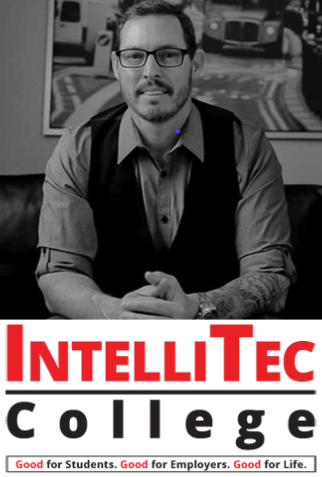 Shaun Daggett, CCAS
Certified Customer Acquisition Specialist
Director of Marketing at IntelliTec College
linkedin.com/in/shaundaggett
[/av_promobox]
Enrollment Resources offers services in four areas: