Join the Conversation
Find out how to make the most of your recruitment, admissions, and compliance practices
Sign up to watch our latest video and for access to over 50 more original podcasts, videos, and webinar recordings
The latest video in our Training Library provides a step-by-step process for identifying website and landing page elements that don't convert so you can fix them through split testing.
Register for the Enrollment Resources Training Library in the fields above to learn how to: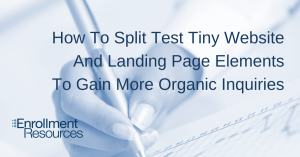 Identify problem elements on your website and landing pages using Google Analytics and other website data and insights
Hone in on the opportunities to increase conversion presented by those problem elements
Design hypotheses based on your data that will consistently produce meaningful test results
Replicate this simple but powerful process at your school
Registration to the Enrollment Resources Training Library includes unrestricted access to our growing collection of over 50 podcasts, webinar recordings, and transcripts, as well as a curated collection of videos, case studies, and articles. Chances are, there's something for every member of your team!
By registering, you will receive invitations to join future best-practice virtual conferences and webinars and notifications about newly published articles and podcasts. We will not share your name or spam you with emails. You can easily opt-out anytime.
After registering, you will be directed to a thank-you page and receive a confirmation email with your link to "How To Split Test Tiny Website And Landing Page Elements To Gain More Organic Inquiries" and the Training Library page.