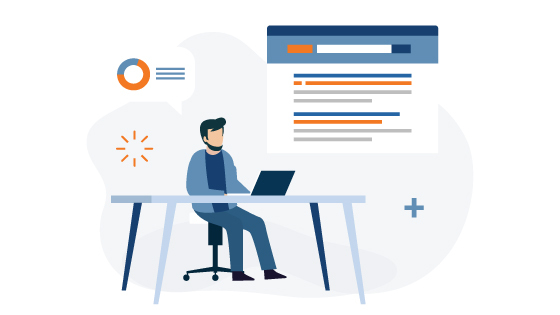 When it comes to how to increase student enrollment, easily the most overlooked element is lead quality. Schools clamor for leads. They throw money at advertising and vendors to boost lead volume but often don't see any significant increase in enrollment. 
Low quality leads can be worse for your school than no leads at all. First you pay to generate that lead, then Reps lose hours on unreturned phone calls and emails.
Better Leads -> Higher Enrollments
The powerful Lead Funnels, developed by Enrollment Resources specifically to meet the lead generation, marketing and admissions needs of schools, not only help to increase leads but also to qualify prospective students and to create meaningful relationships with motivated individuals.
Our Lead Funnels provide the opportunity to gather all the pertinent information of a regular contact form – name, email, phone number – PLUS additional information provided by the prospect about their specific situation. 
Imagine three different prospective students inquire with your school: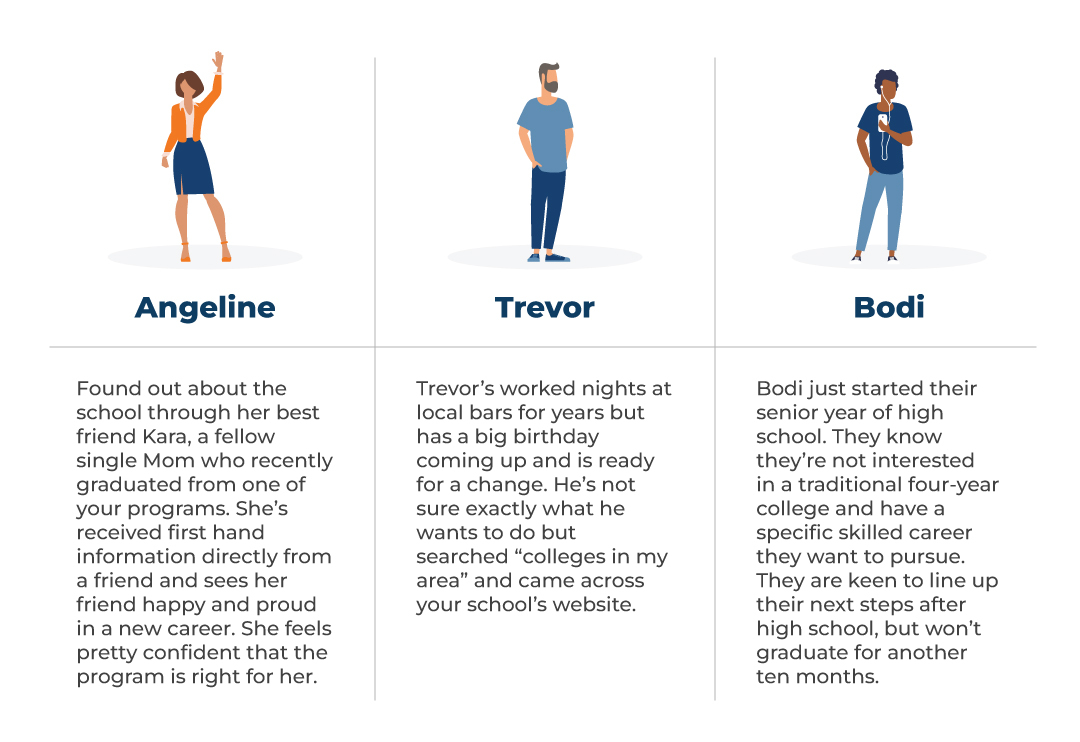 These three prospects share a common interest in career training, but they have wildly different circumstances, goals, needs and expectations. With a typical contact form, you may never know that. 
With a typical lead form, a lead notification arrives to your inbox with little more than a name, email and phone number. You won't learn anything about a prospects' unique circumstances until you successfully connect with them – if you ever do. 
Ask More to Offer More
Now imagine, not only do you know all the pertinent contact information for a lead when they contact the school, you also know things like:
Employment status

Goals

Biggest challenge

Parental status

Scheduling needs

What type of support system they have

Social style – tailor your approach to fit each prospects' preferred communication style
The Career Training Readiness Lead Funnel provides your team with detailed lead notifications with the information above and more. Not only that, but this Lead Funnel offers prospects the opportunity to reflect on their goals and personal situation in a self-directed way, which helps qualified individuals to see themselves as aligned with career training. 
At the completion of the Career Training Readiness Lead Funnel, prospects are motivated to align their actions with their goals and take proactive moves toward their education. 
75% of all prospects who engage with the Career Training Readiness Lead Pathway request a school tour before they ever speak with Admissions**
What would your next intake look like if your Admissions team could spend more time meeting with motivated prospective students and less time leaving voicemails for strangers?
Risk-Free Conversion Kickstart
Get an immediate boost in high-quality organic leads that enroll.
Try it Risk-Free for 90 days.
How It Works
Most of us want to feel heard. If we didn't, social media feeds would be empty (*daydreams for a second about a time before social media). When you ask your prospects to share more about who they are and what they want, you accomplish two important things:
You start a potentially meaningful connection with that prospective student before you ever speak with them directly. This makes prospects

more likely to engage when Admissions reaches out.


 

You help that individual to better understand themselves and what they want, which helps them

feel confident to move forward with a tour/info session.
 
The Lead Funnels engage prospects with thoughtful questions and guides them through a self-directed discovery process to learn more about themselves and your school. Founded on principles of behavioral psychology, this process provides an appealing, low-pressure way for prospects to connect with their motivations and the necessary support for quality candidates to feel empowered to contact your school.
Schools that add our Lead Funnels to their website generate an average 15 times more tours*
Are High Converting Lead Funnels Right For Your School? Find Out! 
Get a personalized demo and see for yourself how the simple addition of these proven tools can turn your existing website into a high-performance source for qualified enrollments. 
Try Lead Funnels Risk-Free for 90 Days
Get an immediate boost in organic leads or DON'T PAY. The team of EDU marketing and development specialists at Enrollment Resources will implement the Virtual Adviser Lead Funnels on your school's website and if you feel you've received anything less than substantial value, get a full refund within the first 90 days, no questions asked. 
You will keep all leads generated during the 90 days, no matter what.
*Average of tour requests through standard "book a tour" forms vs Enrollment Resources' Career Training Readiness Lead Funnel. Sample size of 31,414 prospective students who booked tours from 10 schools over 22 months (Jan 2021-Oct 2022).