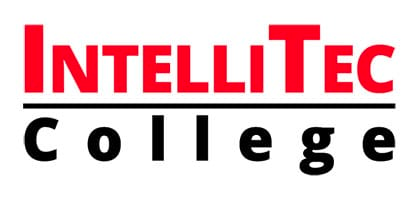 The Marketing Team at IntelliTec College, a multi-campus private vocational college that offers career training in a variety of industries as well as adult continuing education, found themselves in an unenviable position: their advertising budget had ballooned to over six figures and they weren't seeing results.
Salvage a declining website and underperforming PPC campaign
Eliminate reliance on lead vendors
Conversion rate optimization audit of all IntelliTec marketing
Redesign & relaunch IntelliTec's website on Enrollment Resource's proven high conversion
website template
Overhaul of paid search campaigns
35% increase in enrollment over previous year
Reduced ad spend by millions
Growth of as much as 20% month-over-month
More focused and effective admissions team
"I just don't know where to begin to tell you how amazing working with you and the entire team at Enrollment Resources has been – every single thing you have done has had a dramatic impact on our overall business outcomes this past year… Lead flow from our website and Google Ad campaigns are at an all-time high and lead quality has dramatically improved."

Shaun Daggett
Director of Marketing at IntelliTec College
Before the Enrollment Resources Lead Generation Intervention
Before working with Enrollment Resources, IntelliTec College:
Ranked on page 5 of Google Search Results due to poor SEO
Received almost no organic traffic to their website
Generated almost no organic leads
Spent a significant amount of money on traditional radio and TV advertising
Purchased paid leads from lead vendors
Prior to their partnership with Enrollment Resources, IntelliTec went through a costly and involved website design. The school had high expectations when their new website went live. Their marketing agency at the time poured additional budget into their existing brand awareness campaigns on TV, radio and digital. Almost immediately it was clear something was wrong. Instead of the boost the school had been promised, leads were in steady decline.
Despite a new website and increased costs on both traditional and paid search marketing, the college's Marketing Director had to purchase leads from a lead vendor to have anything to give to his admissions team. Expenses were up. Leads were low.
That's when the school reached out to Enrollment Resources.
The Enrollment Resources Conversion Optimization Team first conducted a marketing audit review to get an accurate benchmark of IntelliTec's current marketing performance, including:
Website Conversion Rate
SEO Impact
Paid Search Performance
Landing Page Performance
The audit revealed major gaps in IntelliTec's current marketing strategy. Crucially, audit results showed that most of the traffic funneled through the school's Google Ad account was mid and top-funnel, brand awareness campaign traffic. This approach completely misses low-funnel traffic, the individuals with the highest intent to enroll. A failure to connect with these prospects will have a huge impact on a school's bottom line.
A review of the landing pages created by their previous agency found a common mistake: copy focused heavily on the school's attributes. The prospective student was almost entirely left out of the conversation.
Based on analysis of the audit, the Enrollment Resources Conversion Team developed a strategy
to refocus IntelliTec's budget on high ROI traffic. The team created new landing pages with content focused on the prospective student and included multiple conversion pathways to assist the prospects' journeys and move them smoothly into conversation with the school. Next, they restructured the college's Google Ad account so that 80% of the budget supports a high search intent strategy.
Enrollment Resources also moved IntelliTec to their proven, high-conversion website template that includes multiple lead generation pathways such as the Career Training Readiness Lead Funnel and other best practices.
Confident in the new data-based strategy, the college's Managing Directors cut investment from all traditional media and funneled their marketing dollars into the newly managed Google Ad account.
"What you have provided us has allowed us to turn off millions in radio and television advertising and convert to a purely digital marketing model – and improve our overall business outcomes. This new digital platform has allowed us to generate higher-quality, deeper funnel leads, right-size our admissions staff and grow in an industry that seems to be contracting all around us. You executed this flawlessly… it was the equivalent of changing out the engine of a Nascar race car while the car was still in the race – all without losing our position."

Shaun Daggett
Director of Marketing at IntelliTec College
The Result – 35% Increase In Enrollment In The First 6 Months
After partnering with Enrollment Resources, IntelliTec was able to cut their traditional media advertising budget by millions of dollars and were able to not only maintain their lead flow but also grow prospect inquiries month over month. The school experienced a 35% growth in enrollments in the last start over the same period the previous year. Lead flow from both the website and Google Ad campaigns increased and lead quality dramatically improved.
April 2019 – Sept 2019 Compared to Previous Period
| Network (with search partners) | Conversions | Improvement (%) |
| --- | --- | --- |
| 1. Search Network | 1,224.78 | 63.5% |
| 2. Display Network | 224 | 307.3% |
| 3. Search Partners | 16 | 77.8% |
| 4. YouTube Videos | 10 | - |
The Enrollment Resources PPC Team increased Google Ads lead inquiries 63% in the first 6 months
After 1 Month: Increased Google Search Network inquiries by 16% & dropped cost-per-lead by 8%.
After 3 Months: Leads up 191% with an additional 7% reduction in cost-per-lead. Admissions is
excited by the increase in lead quality and enrollments begin to rise.
After 6 Months: IntelliTec EXCEEDS enrollment goals with a 35% increase in starts. Leads from non-branded Google searches are up 337% over the previous period and cost-per-lead dropped 23%.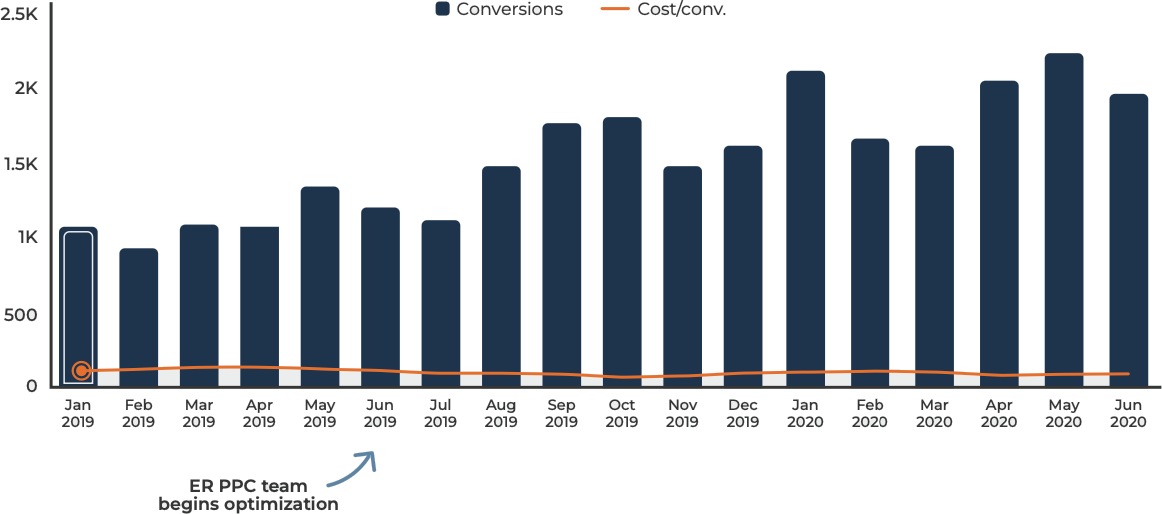 After taking over the account in April 2019, the Enrollment Resources PPC Team increased conversions by 191%
"That is just the beginning – you re-created our entire website (with incredible conversation rates), added the Career Readiness Quiz, relaunched our Google Ads platform (from scratch!) and all of our landing pages as well. You developed a brand new remarketing strategy and created our YouTube channel and Video advertising platform – and seamlessly integrated all of these solutions into our CRM to enable our admission team to connect with every lead immediately.


We are now launching a new Admission Pathway to help improve our enrollment metrics and measure performance at levels we never knew were possible. This has been the most incredible suite of solutions I could ever imagine coming from a single vendor – all interconnected to drive amazing results."

Shaun Daggett
Director of Marketing at IntelliTec College
Risk-Free Conversion Kickstart
Get an immediate boost in high-quality organic leads that enroll.
Try it Risk-Free for 90 days.  
The Hidden Motivations of Prospective Students
We compiled data from over 250,000 prospects in North America to provide insight into prospective students' core motivations, personality style, and triggers that drive buying decisions.
Increase leads and enrollments without increasing your budget
Discover how our conversion optimization tools can quickly and cost-effectively increase lead generation and boost enrollment.
Your prospects are already exploring your school online. Get more of them excited to inquire and book a tour today.
Try it Risk-Free for 90 days.  We guarantee results!