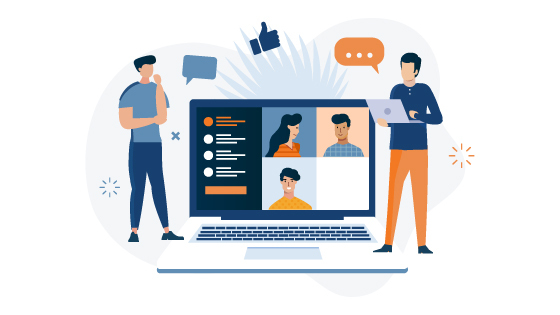 Are you missing out on leads off your website? If you're anything like most schools, the answer is a resounding YES.
The average school website converts only about 2%-5% all website traffic, or as few as 1 in every 50 visitors, into leads. Too often schools spend money to drive traffic to a website only to have most visitors leave without taking any action. With the cost of paid-search and other expenses on the rise and competition for your prospect's attention at an all-time high, it's more important than ever to ensure your website is one of your most cost-effective and productive lead sources.
But not all web forms are created equal. 
A simple contact form may capture the most highly motivated prospects, at least in the moment they fill out the form. Whether or not you ever get them on the phone or manage to connect with them is another story. For a prospective student at any other stage in their decision making process, if the best your website offers is a simple contact form, they're likely to bounce.  
How do I turn my website into an efficient lead generator?
The Solution:
High Converting Lead Funnels 
Enrollment Resources' Lead Funnels will turn your existing website into a lead generation machine.
Schools that add our Lead Funnels to their website see an average 32% increase in leads
These powerful lead generation tools have been shown to boost student inquiries at every stage of the sales journey, from initial inquiry through application for enrollment.
What is a Lead Funnel?
In this context, a Lead Funnel is a pathway that engages individuals and helps to move them from anonymous website visitors to active prospective students, or leads.
What Makes Our Lead Funnels Such a Game Changer?
Backed by Behavioural Psychology – Thoughtfully designed using principles of human psychology to empower prospective students to take action (such as booking a tour!)
Seamless Integration with Most CRMs – Easily fits your process with no complicated system to learn 
Proven Results – Each lead funnel is the result of rigorous testing and our tools have cumulatively generated millions of leads for our partner schools 
Leads That Enroll
Not only do our Lead Funnels help to increase the volume of leads generated off your website, these powerful tools also contribute to improved lead quality. 
The Career Training Readiness Lead Funnel has been shown to:
🚀 Increase Tours/Appointments by up to 15x*
📝 Increase Likelihood to Enroll up to 132%**
"You guys are helping us generate more of our own inquiries that are much
more interested and have a much higher conversion rate. And it's working.
Our conversion rates are phenomenal now."

Anthony Palmieri,
Director of Marketing, Valley College
"When we compare it to any other vendor-source, Virtual Adviser converts the highest."

Tracy Jasinski
Director of Operations, Kenneth Shuler
Risk-Free Conversion Kickstart
Get an immediate boost in high-quality organic leads that enroll.
Try it Risk-Free for 90 days.
The Lead Funnel Suite
Our high-performance Lead Funnels are powered by Virtual Adviser, the platform we created specifically to fit the marketing and lead generation needs of schools. The Virtual Adviser platform includes a variety of powerful lead funnels, ready to be easily implemented on your website to produce immediate results. Lead Funnels include:
Multi-Step Form – Take your contact form to the next level. This form not only captures motivated prospects, it has been shown to increase tour requests up to 40%.  
Career Training Readiness Pathway – This engaging, quiz-style Lead Funnel empowers prospects and provides a welcome opportunity for self-directed investigation of your school and of a prospect's own motivations. The pathway thoughtfully uses principles of behavioral psychology to support prospects and help qualified individuals to see themselves as ready to move forward with career training. 
This Lead Funnel not only captures leads farther up in the sales funnel, i.e. prospects who might not have felt motivated enough to complete a regular contact form, but prospects that complete this Lead Funnel enroll at a higher rate than other leads. 
In the case study cited above, students at a sample career school who completed the Career Training Readiness Lead Funnel were 132% more likely to enroll.**
Conversion Rate Optimization (CRO) Toolbar – A collection of our best converting tools, all in one place. The CRO Toolbar includes four distinct calls-to-action, each designed to appeal to a prospect at a different point in their decision cycle. This tool remains present at the bottom of each webpage as a visitor scrolls on both desktop and mobile. 
Book a Tour & Apply Now Forms – Tested high-quality forms integrated with your existing system. 
Mobile Matters! Improve Performance for Mobile Users
Most schools today receive an average of 70%+ of their website traffic from mobile. How well does your current web form adapt to suit these users? Most website platforms and CRM templated forms claim an "adapt to mobile" feature, but the Lead Funnels created by the EDU marketing and development specialists at Enrollment Resources include mobile-specific calls-to-action.These lead generation tools are distinctly designed to appeal to today's mobile site visitors. 
"Using the Virtual Adviser tool we have been able to grow our lead volume while also reducing our reliance and spend on paid search advertising – simply because it improves conversion on our website traffic. In this respect, the tool more than pays for itself."

Richard Hope
Marketing Director, Carson Dunlop
Try Lead Funnels Risk-Free for 90 Days
Get an immediate boost in organic leads or DON'T PAY. The team of EDU marketing and development specialists at Enrollment Resources will implement the Virtual Adviser Lead Funnels on your school's website and if you feel you've received anything less than substantial value, get a full refund within the first 90 days, no questions asked. 
You will keep all leads generated during the 90 days, no matter what.
*Average of tour requests through standard "book a tour" forms vs Enrollment Resources' Career Training Readiness Lead Funnel. Sample size of 31,414 prospective students who booked tours from 10 schools over 22 months (Jan 2021-Oct 2022).
**Sample size of 2,268 prospects to a multi-campus, multi-program private career college over 22 months