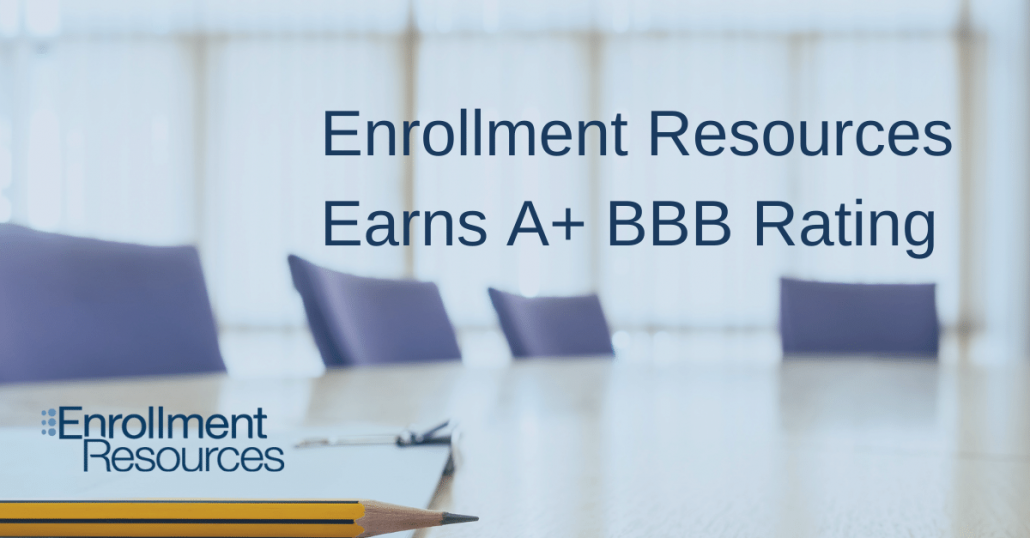 Higher Education Marketer Is Recognized For Ethical Business Practices
VICTORIA, British Columbia – Sept. 25, 2020
Enrollment Resources is proud to announce that they have achieved an A+ rating with the Better Business Bureau (BBB). An A+ rating shows that the BBB is highly confident that Enrollment Resources consistently treats their customers in a fair and honest manner, is transparent in their business practices and engages in truthful marketing and advertising.
The BBB is a private, nonprofit organization focused on advancing marketplace trust. They set the gold standard for businesses that have earned the trust of North American consumers in many industries, including the marketing industry. Not all businesses qualify for BBB Accreditation.
"Any time you consider bringing on a vendor to help you with your business, check if they are validated through a trusted and unbiased third party like the BBB," councils Gregg Meiklejohn, Co-founder of Enrollment Resources. "We are proud to be recognized for living up to our core mission to find the most profitable, ethical, and effective avenues of improving enrollment management performance for our clients. Can your agency say the same?"
For a business to qualify for BBB Accreditation, it must continually meet the BBB Code of Advertising and the eight principles of the BBB Standards for Trust: Build Trust, Advertise Honestly, Tell the Truth, Be Transparent, Honor Promises, Be Responsive, Safeguard Privacy, and Embody Integrity.
For more information, please contact:
Christie Burns
Content Marketing Manager
Enrollment Resources
250-391-9494
~30~
Background
More About About The Better Business Bureau's Rating System
BBB maintains business profiles on more than 5.4 million companies, including a letter grade rating that presents BBB's opinion of the business's responsiveness to customers based on complaints filed with BBB about the business. The new BBB rating system relies on an A+ through F letter-grade scale. The grades represent BBB's degree of confidence that the business is operating in a trustworthy manner and will make a good faith effort to resolve any customer concerns filed with the BBB.
BBB ratings represent the BBB's opinion of how the business is likely to interact with its customers. The BBB rating is based on information BBB is able to obtain about the business, and is significantly influenced by complaints received from the public. The BBB Rating System uses points based on marketplace behavior, including how the business responds to consumer complaints, transparency, truthful advertising, and more.
Learn more about the Better Business Bureau's rating system here.
More About Enrollment Resources
Enrollment Resources creates conversion rate breakthroughs for their clients. They provide the tools clients need to increase student enrollment and revenue without having to spend more on marketing or hire additional staff.
Through Conversion Rate Optimization (CRO) and rigorous A/B testing, their dedicated team of higher education subject-matter experts delivers the best possible results for their clients: effective marketing campaigns, productive admissions staff, happier students, and a stronger bottom line.
Here's how you can squeeze every last ounce of value from your marketing budget, and every last opportunity out of your admissions efforts:
Virtual Adviser powers a suite of conversion tools to improve lead generation, lead nurturing, social media engagement, admissions and retention. Developed specifically for higher education, Virtual Adviser will help optimize outreach at your school by increasing qualified leads and improving contact rates, engagement, and enrollment conversions. All content is customized to your school's unique brand and workflow.
New Virtual Adviser Landing Page Module — Enrollment Resources' industry-leading, best-practice landing pages are seamlessly connected to your school's Pay Per Click (PPC) data points and powered by the technological advancements in the latest version of Virtual Adviser, including increased page usability, speed scores, user engagement tools, and multiple pathways to inquiry.
Remote Admissions Pathway — As many schools rapidly shift to online operations in the wake of the COVID-19 crisis, Admissions teams are struggling to be effective when in-person interviews are not possible. Organize a high-performing Remote Admissions Program quickly with the Remote Admissions Pathway module in Virtual Adviser. Use this tool to help your Admissions team consistently deliver effective online interviews and school tours.
Student Retention Pathway — Support Students from Enrollment through to Graduation and beyond with the Virtual Adviser Retention Bundle. This powerful bundle is an add-on to Virtual Adviser Core built to provide schools an easy-to-implement way to support students, gauge satisfaction, reduce false starts/dropout rate and foster relationships.
Learn more at www.enrollmentresources.com