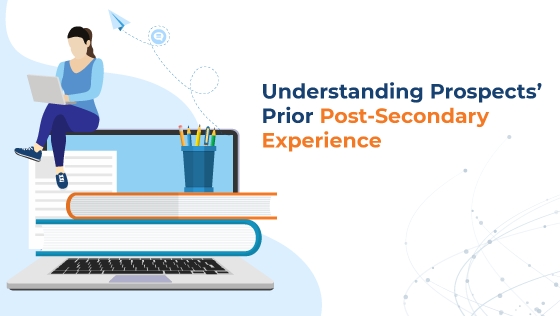 I want to like nectarines. There's a nectarine tree in my parents' yard and every summer they rave about the sweet fruit fresh off the branch. But I'll never know, because years ago I bit into one and didn't realize that, in addition to a pit, this particular nectarine also harbored a small spider. Since then, I'm more partial to a peach. My summer fruit preference is obviously not important, but I share it to illustrate the way our experiences shape our perceptions. Do all nectarines contain spiders? Of course not. Would most people ever even consider that? No again. But I do, because of my experience. I'm sure you have examples of this in your own life. Maybe a particular liquor you no longer drink after an enthusiastic overindulgence or a place you think of fondly because it's where you met someone special. Our previous experiences shape our perceptions and expectations, which is why when a prospect inquires with your school it can be crucial to understand that individual's previous educational experience in order to best support them.
Do you know what percentage of your prospective students have previous post-secondary experience?
Our recently published research report
The Hidden Motivations of Prospective Students
, compiled from input of over 250,000 prospective students,
found that
38.9%
of all prospects surveyed have some type of previous post-secondary experience.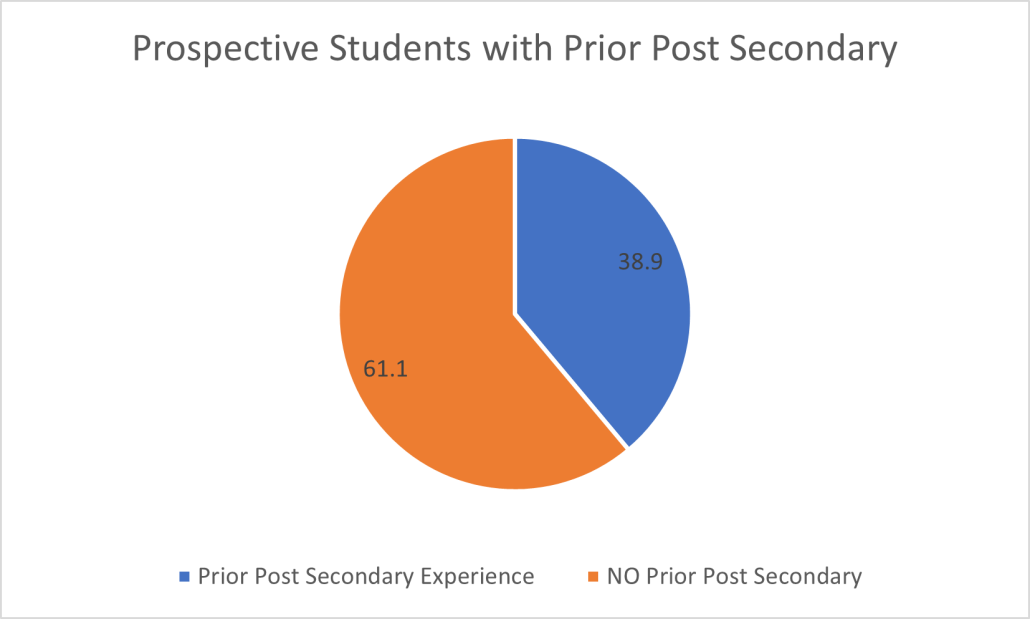 Generally speaking, that's almost 1 in 4 career school prospects with some post-secondary experience before they inquire with your school. That prior post-secondary experience can have a huge impact on prospects' approach to career training. Does your current admissions interview process incorporate questions about previous education? The sooner you're able to gather this information, the better you'll be able to shape a valuable conversation with your prospect.
For prospects that HAVE attended other post-secondary, important follow-up questions include:
What type of program were you enrolled in?
Did you complete your program?
(If they completed) What type of degree/certification did you receive?
(If they did NOT complete) What held you back from completing?
What was your previous experience in school like for you?
(If you are a Title IV school) Did you receive Financial Aid & do you know the status of your loans?
Knowing whether a prospect has had difficulty, for one reason or another, completing a previous program can be crucial to your evaluation of their fit for your program and knowing how to best support that prospect.
TIP:
Stories from successful graduates of your school who have previously attended other schools can be particularly powerful. These types of personal testimonials can lend incredible credibility by speaking directly to the experience many prospects have and can help to allay doubts that may linger for some prospects if they have had negative experiences with post-secondary in the past.
Previous Post-Secondary Experience by Career Area of Interest
For careers that typically attract a younger demographic, such as trades and beauty, the instances of prior post-secondary experience are lower. The 3 career areas that showed the highest percentage of prospects with prior post-secondary education are:
Social Services (55.3%)
Education (56.2%)
Hospitality (57.7%)
If your program tends to attract career-changers, i.e. individuals who have been in the workforce a number of years already and are ready to make a change professionally, it's even more important that your admissions process allows opportunity to explore and address the prospect's prior educational experiences.
Know Education Status Before You Reach Out to a Lead
When a lead comes in, do you have background information like previous education experience or do you have to uncover it in your conversation? When your lead generation tools, such as signup forms on your website etc, allow room for prospects to share details beyond their immediate contact information, Admissions teams are prepared to better serve that individual prospect's specific needs.
Want to see more from this in-depth research?
Access the Hidden Motivations of Prospective Students Research Report here.