Enrollment Resources is a leading innovator in the Career Education Sector dedicated to helping Institutions prosper
Founded in 2003, we help schools increase enrollment through empowerment and access to best practices in Marketing and Admissions.  We offer services in three main areas:
A powerful suite of conversion optimization tools specifically designed for higher education. Optimize your outreach by increasing qualified leads and improving contact rates, engagement, and enrollment conversions.
A website platform developed specifically for schools that wish to simplify website management and employ the latest best-practices in visitor-to-lead conversion.
Higher volume and lower CPLs through tested, best-practice campaigns managed by a dedicated team of Google Ads experts. Campaigns are fueled by our tested and proven conversion rate optimization (CRO) practices.
Our Mission is to "Pursue the Truth"
Our core mission in business is to find the most profitable, ethical, and effective avenues of improving enrollment management performance. We are sticklers for testing, and are constantly challenging the status quo to find best practices that can guide our and our clients' success.
Corporate Values
The company is governed by the following four core values.
Factual Decisions – We identify and share best practices that we understand to be true and provable through

research and testing

Do The Right Thing – We operate the business in a manner that gives clients control over their assets and the freedom to break free of dependence on outside agents (including ourselves)
Transparency & Accountability – We always act in a respectful, truthful, transparent and accountable manner
Value Relationships over Money – We understand that the quality of our relationships with clients and each other is paramount to our success.
Google Partner Certified

Enrollment Resources is a Google Partner with the distinction of being the first company in the for-profit education industry to be Google AdWords Certified. 
Achieving Google Partner status means that Enrollment Resources demonstrates Google Ads skill and expertise, meets Google ad spend requirements, delivers company and client revenue growth, and sustains and grows our client base.
Google has emerged as the biggest advertising platform in the world. As a Certified Google Ads Partner, we are committed to being at the forefront of marketing innovation and best practices.
The Kaizen Continuous Improvement Methodology
Enrollment Resources adopts the Kaizen Continuous Improvement Methodology as the basis for our approach. Kaizen is Japanese for "improvement" or "change for the better." Kaizen is part of the Lean Management School established by Edward Deming in the 1950's in Japan during the Marshall Plan reconstruction. It refers to a philosophy that focuses on making very small continuous improvements of many business processes, resulting in continually improving an organization's effectiveness. By improving standardized activities and processes, Kaizen aims to eliminate "business waste." A typical example of business waste in the private post-secondary field is unnecessary advertising.
Better Business Bureau Accredited Business
Enrollment Resources is a BBB Accredited Businesses with an A+ rating. The BBB is a private, nonprofit organization focused on advancing marketplace trust. They set the gold standard for businesses that have earned the trust of North American consumers in many industries, including the marketing industry.
Member of the U.S. Chamber of Commerce

Enrollment Resources is a current U.S. Chamber of Commerce member in good standing. The U.S. Chamber of Commerce is the world's largest business organization representing the interests of more than 3 million businesses of all sizes, sectors, and regions.
BBB4Good Certified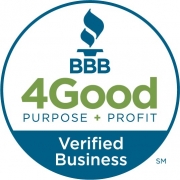 Enrollment Resources is honoured to be the first Marketing Company in North America certified by the Better Business Bureau for the BBB4Good designation.
Currently in its pilot phase, our local BBB office asked our team to participate in this fledgling initiative so that we could give valued feedback that will help businesses achieve the designation for years to come.
Enrollment Resources is proud to take part and is excited to continue working with the BBB to make this initiative successful for all businesses.