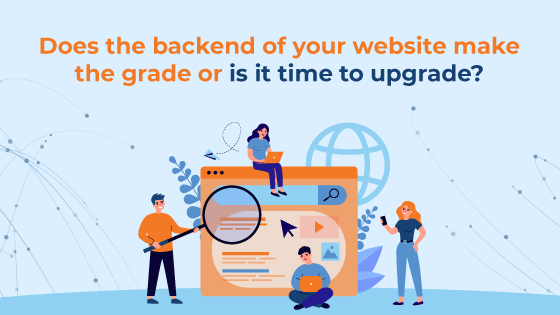 In this piece, we'll share a few important things to check in order to assess whether the backend of your website is up-to-date and functioning optimally. This is particularly relevant if you want to generate more organic leads and/or are considering a new website
The backend of your website is like the foundation of a house. If "the bones" of your site are good, you can potentially improve performance through design elements and the use of best practice conversion elements, rather than a complete (and often costly) rebuild or redesign. To continue the house metaphor however, if the foundation is rotted it will likely save you in the long run to fix it before you invest in design.
How to Evaluate Your Site's Overall Foundation
Do you have access to your website's Google Analytics? If so, take a look at the analytics for the following things:
Does your website traffic drop off completely at any point?
This can be an indicator that the website is inaccessible at times.
Is your page load time 3 seconds or less?
Google recommends a page load time of 3 seconds or (ideally) less. According to Google, 53% of mobile site visitors will abandon your page if it takes longer than 3 seconds to load.
Do you know your website conversion rate? Is it trending down?
Your website conversion rate can be measured by the number goals achieved, in this case the "goal" is any time a prospect took action to contact your school, divided by the number of unique website visitors, multiplied by 100. For example, if your website receives 2,000 unique visitors per month and generates 50 leads, your website conversion rate is 2.5%.
If you answered "yes" to any of these questions…
This can be a sign that your website hosting may potentially be out of date or otherwise providing below optimal function. If this is the case, it could potentially be time to invest in an upgrade.
If you answered "I'm not sure" to any of these questions…
If you aren't sure the answer to any of the questions above, it's worth a conversation with your web developer or anyone knowledgeable in Google Analytics who can walk you through it.
If you answered "no" to these questions…
That's good news! If the basic foundations of your website are sound, that could mean you do not need to invest in a foundational upgrade. That also means you can potentially boost your website's performance through less costly improvements such as copy, improved calls-to-action, more authentic photos and other best practices.
What About Mobile?
For a quick way to test your website's performance on mobile, click here to check out this blog post from last week.
Want Help to Assess Your Website?
If you're curious about the performance of your website and how it measures up against today's best practices for lead generation and conversion, Enrollment Resources can help. Schedule a free website audit with an EDU conversion expert.
Risk-Free Conversion Kickstart
Get an immediate boost in high-quality organic leads that enroll.
Try it Risk-Free for 90 days.