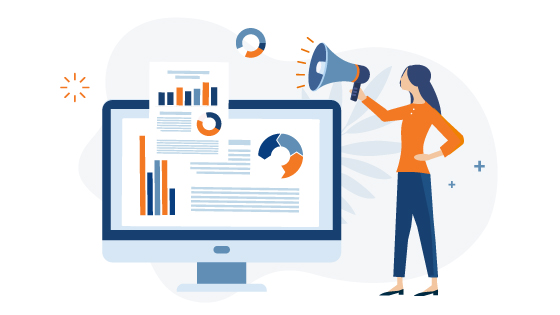 If you're tasked with how to increase college enrollment, you likely know all too well the challenges today's schools face. Between regulatory concerns, increased advertising costs and industry-wide dips in enrollment, schools need cost-effective ways to connect with prospective students.
When it comes to successful strategies to increase college enrollment, the most promising area for low-cost, high-return improvement can be in your school's digital marketing. Take a look below for details on three of the most important areas of digital marketing for higher education.
1. SEO for Higher Education
You can put a ton of effort into your school's website and may think you've followed all the best practices for marketing to college students, but without proper Search Engine Optimization (SEO), your site simply will not be seen. Crucial elements to keep in mind when it comes to SEO for higher education include:
Website copy: The content of your website must directly speak to the search queries prospective students use when they explore going to college. For instance, if you offer a culinary program but the majority of interested prospects in your area search for "Chef's Training," that language needs to be reflected on your site.

Internal & External Links: Is your website a quality resource with multiple pages a visitor can explore to learn more? Linking to relevant content within your website and also to external sites will boost the quality ranking of your website. For schools, an example of a worthwhile external link could be the

U.S. Bureau of Labor Statistics

or another relevant government agency that offers reliable job market information for your area.

Photo Tags & Captions

:

When search engines scan a website, they don't only look at the main copy. They also scan picture tags, captions and descriptions to rate the relevance of the site's content. This can be an often overlooked area for those new to SEO.
QUICK TIP: If you're unsure how to evaluate the quality of SEO on your school's website, it can be helpful to get an SEO audit done by a higher education online marketing company.
2. Paid Search Management for Higher Education
Higher Education marketing can be a crowded space. Even with your best SEO efforts, your site may not receive a high enough volume of traffic to generate the number of leads you need to meet your enrollment goals.
Most schools need additional paid traffic sources to get enough visitors to their websites. Search engine marketing, i.e. paying to drive traffic through Google and Bing Ads, is an excellent way to capture qualified prospective student leads during their decision-making process.
The best way to drive qualified visitors to your site through paid search is to tailor the keywords you target toward your program offerings and to write ads that use prospect-centered language. Remember to focus on benefits to the prospective student, rather than just features of your school.
QUICK TIP: Some schools will manage their own paid search campaigns in-house, while many choose to work with a marketing agency or one of the higher ed tech companies to manage their paid search.
If you want to reduce reliance on outside lead vendors and generate more high-quality leads "in-house" off of your own website, you need quality web forms. 
Below are some basic "Do's" and "Don'ts" for school website forms.
DO:
Have some type of contact form on almost every page of your website

Include a compelling call-to-action that answers the question "Why should a prospect complete the form? What's in it for them?"

Ask prospects for enough contact information that Admissions Reps can attempt to contact them by phone, email and text where relevant
DON'T:
Make the contact information fields optional

Promise any type of discount in return for a form completion

Leave prospects hanging – make sure when a prospect completes the form they are shown a clear indication that the form has been submitted and what will happen next
What About AI in Higher Education?
While not yet a pillar of higher education digital marketing, Artificial Intelligence (AI) tools represent an interesting resource for EDU marketers. 
Often the conversation around AI in higher education focuses on plagiarism and things for instructors to look out for when they grade assignments. But when it comes to higher education digital marketing, AI tools like ChatGPT may be able to help you to refine and reinforce your message to improve lead generation on your website and other online pages.
The trick to using a tool like ChatGPT to generate effective copy for your school is the willingness to iterate and to edit. You will want to make sure you give any AI-generated copy a human touch. AI can also be especially useful in helping to source third-party resources such as defendable labor statistics for your area.
Marketing higher education has its hurdles. But the reward can be knowing your efforts help individuals to connect with your school and to the training they need to pursue bright futures.
When you review your college recruitment strategies, make sure the 3 pillars of digital marketing for higher education shared above are on point to ensure you have a strong digital marketing foundation. With a combination of:
Strong SEO

Thoughtful paid search management

Optimized web forms
You can set your school up to connect with more of the right prospects and ultimately boost enrollment.
Get Help to Increase Student Enrollment
If you're looking for help to grow your school or even just want to know if the tools and strategies you currently use are working as well as possible, the EDU marketing specialists from Enrollment Resources can help. 
Get a free website and online marketing audit. Identify what you're doing right and areas where you can improve.