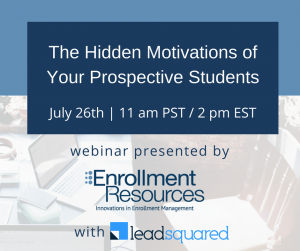 Your programs may be world-class, but without insight into your prospective students' secret buying motivations, your Marketing Department is probably fumbling around in the dark.
In this webinar, Enrollment Resources co-founders Shane Sparks and Gregg Meiklejohn, along with Nilesh Patel, Co-Founder & CEO of LeadSquared, will reveal the hidden motivations of prospective students and how that insight can lead to more enrollments at your school!
This is new, never-been-seen research from Enrollment Resources, and we're sharing it with you!
Register now to join us at 11am PST / 2pm EST on Thursday, July 26th!
Through the analysis of over 125,000 Prospective Student Surveys completed through our Virtual Adviser, we have an unparalleled understanding of the goals, frustrations, motivations and current life/work situations of prospective students. We've never revealed these insights to anyone until now.
Understanding the hidden motivations of your target audience is essential to your school's marketing and enrollment success.
In this webinar, you'll learn:
The number one motivating trigger driving your prospective students' buying decisions
Actionable insights into the motivational triggers of your prospective students
Your prospective students' dominant personality styles and how to communicate with each of them effectively
How to sharpen your marketing and advertising through a focus on the high-value messaging that resonates with your prospective students
Ensure that your marketing is meaningful to your prospective students and you'll consistently achieve higher conversion rates! Click to register for the July 26th webinar!